ADVOCACY
Legislative Action Network
Join now to receive breaking news from Capitol Hill
Each year, Easterseals Massachusetts focuses on local state initiatives in order to advance various issues that are important to people living in the state with a disability. Below are ways to get involved as well as a synopsis of the major legislative priorities in 2018.
LEGISLATIVE ACTION ALERT
This year, we are advocating for funding Assistive Technology at the FY19 level and for fully funding The Youth Leadership Forum and The Youth Leadership Network programs. Please click here to take action.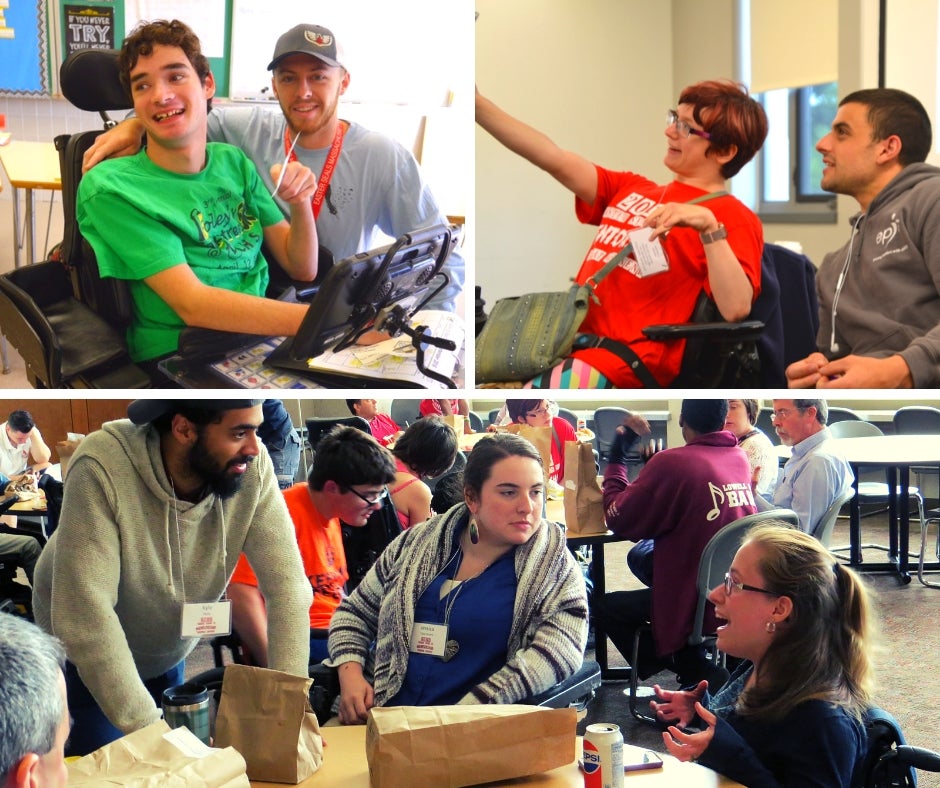 ---
LEGISLATIVE PRIORITIES FOR 2019
1. Easterseals will seek to add $360,000 to The Massachusetts Rehabilitation Commission's (MRC) budget line item 4120-4000.
This increase will cover the growing demand for reuse Durable Medical Equipment (DME) run by REquipment (http://dmerequipment.org/) . The funds will add four new Drop-off Centers, increase staff hours, and cover operating expenses related to expanding capacity.
2. Easterseals will seek to increase the commonwealth's commitment to the employment of people with disabilities.
In adolescence, young men and women begin to define their self-image and how they want others to see them. It can be an especially difficult time for those with disabilities. Consequently, youth with disabilities frequently have lower self-esteem and self-confidence than their non-disabled peers, inhibiting participation in extra-curricular activities, work and other social interactions. Youth programs have proven successful in helping adolescents build self-esteem and self-confidence; however, most of these programs are not open to youth with disabilities, especially severe disabilities, because of the programs' lack of experience and understanding of disability and the issues these young men and women face. Through our leadership program we promote activities that increase leadership opportunities for youth. Click here for more information about our Youth Services programs.

3. Easterseals will support the Youth Leadership budget request of $233,000, legislation and regulations that provide opportunities for youth with disabilities to better understand their personal abilities, expand the possibilities they see for themselves and support their transition from school to post-school activities.
We will advocate to the legislators to fund the Massachusetts Rehabilitation Commission's Youth Leadership Network so it can become fully funded and provide needed services to the Lawrence/Lowell and Framingham areas which currently have no networks.
Easterseals MA strongly encourages everyone to vote.
Easterseals Massachusetts is a member of the Disability Voting Task Force and encourages people with disabilities to register to vote, to get educated on the candidates and issues, and to get to the polls! http://revupma.org/wp/
How to register to vote: https://www.sec.state.ma.us/ovr/
Voting information for people with disabilities: http://www.sec.state.ma.us/ele/eleaccessible/accessibleidx.htm
Find your State Senator and Representative: malegislature.gov
Search online for any disability issue: https://www.disabilityinfo.org/
Massachusetts Office on Disability, DISABILITY RIGHTS LAWS IN MASSACHUSETTS (PDF): http://www.mass.gov/anf/docs/mod/disability-law-booklet.pdf
List of Massachusetts Independent Living Centers: http://www.masilc.org/membership/cils
The Americans with Disabilities Act (ADA) was passed in 1990. Easterseals was a leading advocate for this act and actively lobbied in Washinton, D.C., and nationwide. Find out about the history of this act and what Easterseals is doing today! Click here to find out more.