Easterseals Massachusetts (ESMA) provides a dedicated staff of Speech and Language Pathologists (SLP), Physical Therapists (PT), Occupational Therapists (OT), and Board Certified Behavior Analysts (BCBA) to organizations throughout Massachusetts. We partner with schools, day habilitation programs, skilled nursing facilities, early intervention agencies, and various other community programs that require the assistance of allied health professionals.
We offer proven expertise in individualized treatments, documentation, customized assessments, and discharges, as well as program oversight. ESMA clinicians cover a wide variety of services ranging from one client to an entire agency with short or long-term duration. Our flexible staffing options, backed by our experienced management team, allow ESMA therapists and BCBA clinicians to successfully treat clients throughout their lifespan.


Could you benefit from PT, OT, SLP, or BCBA services?
If you are a community agency and are interested in partnering with us, please reach out by filling out the Rehabilitation Services Request Form.
If you or your loved one require these services, we are unable to provide individual sessions for PT, OT, SLP, or BCBA services and bill insurance carriers. We recommend that if you are in need of these services please contact your primary care physician so they can refer you to the appropriate community provider.


Are you a PT, OT, SLP, or BCBA looking for the next step in your career?
Are you a new graduate who wants to experience multiple settings in order to find your ideal client population? Are you an experienced therapist wanting to diversify your existing clinical skill set by exploring new settings? Do your professional goals align with providing individualized services that focus on the power of unlocking every client's full potential? ESMA is a nonprofit organization whose mission is to ensure that children and adults with disabilities have equal opportunities to live, learn, work, and play. Join our team to make an immediate and powerful impact in the lives of the clients we serve! Full-time and flexible-hour PT, OT, SLP, and BCBA positions are available in the Greater Boston area, Central Massachusetts, and surrounding areas.



Why community partners should collaborate with Easterseals Massachusetts?
ESMA has the ability and expertise to partner with a wide range of community programs such as schools, day habilitation programs, skilled nursing facilities, and early intervention agencies.
ESMA clinicians are experts in their respective fields.
ESMA provides outstanding clinical support to all staff.
ESMA offers flexible scheduling based on each program's specific needs.
ESMA provides excellent ongoing communication.
ESMA is a mission-driven, nonprofit organization that upholds the core values of respect, collaboration, integrity, and commitment.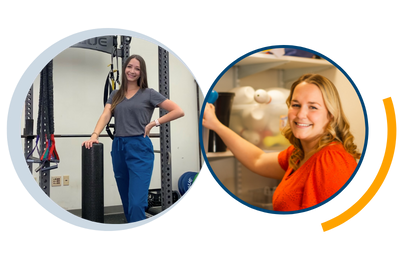 Client Success Stories
Read success stories about how we've helped clients through rehabilitation services. Jessica, whose son Damian was a client, had this to say: "We've been impressed with the services Damian has received. He seems to be much happier and more confident, which, for any parent, is a big deal."
Meet the Team
Click here to meet some of our rehabilitation team members who have built rewarding careers with Easterseals Massachusetts.
Contact Us
For more information on Rehabilitation Services, please fill out the Rehabilitation Services Request Form or email rehabservices@eastersealsma.org.