Darnell | Assistive Technology at School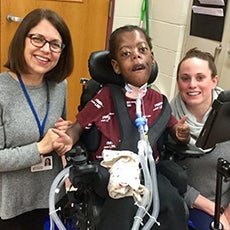 "The firefighter was visiting the classroom and looking for questions. The class was overall being very shy, but DJ [non-verbal] used his iPad to ask questions and the other students began to feel more comfortable about speaking as well."
- Kristi, DJ's AAC Specialist
Meet Darnell Younge, better known as "DJ" by his friends and family. DJ is 8 years old and currently in the second grade at the East Taunton Elementary School system. He was born with congenital fibro-type disproportion; ventilator and g-tube dependent. DJ was evaluated by Easterseals in June of 2018 (AT) and in November of 2018 (AAC). He was referred by his school team, who recognized his abilities and wanted assistance with maximizing his school participation and success.
DJ was seen by two Easterseals specialists: Catherine Fradenburg, AT Specialist and Kristi Peak-Oliveira, Speech Language Pathologist and Augmentative Communication Specialist. Catherine recommended the Microsoft Surface Pro, Surface Pro Pen, as well as other wireless devices. Kristi recommended an iPad with the Touch Chat with Word Power communication app, along with a custom made mount from Rehadapt that allows DJ to use his iPad even when seated at a desk.
Kristi reports, "The school team is wonderful. They have supported DJ's use of technology for communication and academics every step of the way, advocating for him and making sure he has what he needs.
The school reported during his site check visit with Kristi that DJ has become a leader in his class, and shared a story about a visit from a local firefighter. "The firefighter was visiting the classroom and looking for questions. The class was overall being very shy, but DJ used his iPad to ask questions, and the other students began to feel more comfortable about speaking as well!"
Kristi and Catherine say that part of the reason they feel Easterseals is such a leader in disability services has to do with its focus on effectively collaboratively across Easterseals service lines as well as other institutions like public schools. DJ required both AAC and AT to participate fully in class. He can't really use his hands to access the curriculum which is why Catherine recommended the Surface Pro tablet, etc. DJ can mouth words, but it can be very difficult to understand him. That's why he received an iPad with an AAC app. Some agencies can be narrow in their focus and/or only practice a therapy within an isolated context - sometimes the plan might not be successful outside of these conditions. Kristi says, "Our strength is the fact that we work on-site at the school so we are able to work in conjunction with the people who see the students every day. DJ's team was not only a huge part of this initial process, but positive collaboration is also what sustains success for an adaptive learning plan." Easterseals' robust mission of focusing on the services that help people live, learn, work, and play results in evaluations being done in the widest range of settings; people's homes, public workspaces, classrooms, and day programs. Indeed, this itinerant model is unique and rooted in Easterseals' consistent success.
Finally, Kristi shares that one of DJ's photos shows his sentence: "How did you get a job," in which "DJ wanted to know how I started working with technology, and using responses to yes/no questions let me know he was interested in working with technology someday too." Aside from having a comprehensive line of services and expertise, Easterseals is one of the few agencies that often will stay with a client throughout their development and sometimes a whole lifetime!
Easterseals Massachusetts hopes that DJ can be an Easterseals advocate like Paul Foley or Adriana Mallozzi, who received Easterseals services at very young ages and have gone on to have competitive employment and be leaders in the disability community.
---