Assistive Technology at Home
MRC Independent Living Program
Easterseals Massachusetts has a statewide contract with the Massachusetts Rehabilitation Commission (MRC) Independent Living Division to provide free assistive technology equipment and training for individuals with severe disabilities. Program qualifications.
HOW TO APPLY
Click the 'Program Application' button directly above,
Downloadable Program Application form; fill out the form, scan, and e-mail Leo Tonevski at ltonevski@eastersealsma.org
Call 1-800-244-2756 Extension 431 to speak with Leo.
This program offers assistive technology services that will enable individuals to live more independently in their homes. Assistive technology may include computer technology, voice output communication aids or electronic aids to daily living.

REQUIREMENTS
This program is free, but please refer to these requirements to ensure eligibility for the Independent Living Program.
---

STUCK AT HOME? NEW WEBINAR SERIES!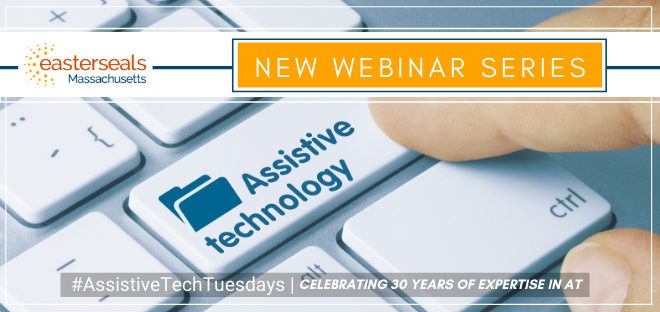 Be sure to tune every Tuesday for #AssistiveTechTuesdays on Facebook and Instagram for tips, demonstrations, and stories of how assistive technology can help you live, learn, work, and play more independently!
---
Ergonomics are essential for work from home labor!
With the massive increase of work from home labor, it's important to consider increased risk of musculoskeletal injures! Click for full details.
Services: Remote evaluation, documentation, training, and technical assistance.
PRIVATE PAY OPTIONS
If you do not think you qualify for the MRC Independent Living Program or would like to contract for Eronogomic services, these services are also available on a private pay basis.
Please contact Leo Tonevski, 508 751 6431, Director of Assistive Technology, for rates and details.
Click here for all AT private pay services
---

CLIENT FEEDBACK FORM
Easterseals is always trying to improve user experience and posistive outcomes within all service lines, please take a moment to fill out our very brief (2 min) survey.
English- short client survey here.

Español-

Para español presione aqui
---
This program provides access to low-interest cash loans for the purchase of assistive devices and services to improve the quality of life for people with disabilities with disabilities as well as assistance with obtaining AT devices. Click for more.
---
People with and without disabilities and their families can see, touch, learn and borrow assistive technology devices to make more informed decisions regarding the technology that will meet their needs. Click for more.
Contact Easter Seals MA at info@eastersealsma.org or call 800-244-2756