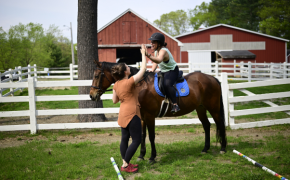 Weekly lessons are offered to all in an inclusive atmosphere: traditional English and Western riding lessons to beginner and experienced equestrians alike, as well as adaptive riding lessons for children and adults with disabilities. All lessons foster each participant's cognitive, emotional, physical, and social development. Equine-assisted activities improve a participant's balance, coordination, strength, and executive functions.
The equines in the program are valuable motivators and partners. They live in the present and accept individuals exactly as they are. In turn, they appreciate kindness, patience, and flexibility. Through mounted and unmounted activities with equines, participants can improve their ability to adapt, communicate, initiate, self-regulate, and trust.
Lessons are conducted year-round in a spacious indoor arena, a lighted outdoor arena, and an outdoor obstacle square. Participants and horses also use an outdoor track and multiple interactive exploration paths around the grounds.
Private Lesson Fees
45 minutes: $70 per lesson
60 minutes: $90 per lesson
Current participants: Sign up and prepay on CampDoc by Friday, August 18, to maintain the same lesson slot for the Fall Term.
New participants: Click the New Participant Registration Checklist to begin enrollment.


Fall Term: Friday, September 8, through Friday, December 22, 2023. - Registration Open
Admission into programming is accepted on a rolling basis as space allows. Late enrollment will be prorated for the remaining number of lessons in the fall term.

Weekday lessons held 12 times. Total cost $840 (45 minutes) or $1,080 (60 minutes).

No lessons held on the following dates: 10/9, 11/10, 11/22, 11/23, and 11/24.

Weekend lessons held 14 times. Total cost $980 (45 minutes) or $1,260 (60 minutes).

No lessons held on the following dates: 10/7, 10/8, 11/11, 11/12, 11/25, and 11/26.
All participants benefit from direct horsemanship skill instruction. All mounted lesson fees include unmounted time for grooming and tacking or untacking the equine.