Paula's Story
Physical Therapist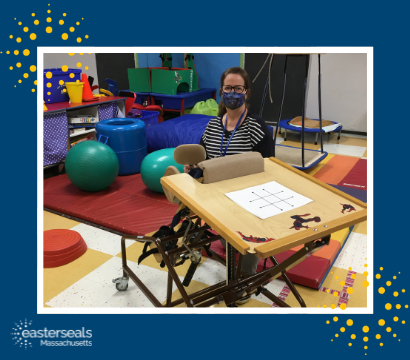 When Paula, an Easterseals Massachusetts (ESMA) Physical Therapist (PT), was working at an outpatient orthopedic clinic she felt that her time with each patient was focused solely on the impairment that patient was facing, and she did not have the time to focus on the whole person. She found herself wanting to connect more with her patients and not just focus on the one issue she was treating. Paula felt like she won the jackpot when she discovered ESMA and their interdisciplinary approach to therapy with their mission of helping clients live, learn, work, and play. Once Paula started working at ESMA, she was placed at a day habilitation program for the first time in her career.
"I never even knew day habs existed and so, naturally, I was nervous. Tiffany, my PT Clinical Supervisor, and Amanda, our Clinical Support Specialist, made sure that I was comfortable and continuously checked in to make sure I was doing okay in this new setting. Tiffany is always available to bounce ideas off or to ask questions of. At another contract, Tiffany provided direct support with one of my students as she had previously worked with them."

Paula found out quickly that she really liked working in the day habs. That was until she was placed in a local school district where she really found a purpose. With open communication about what Paula liked and did not like as a therapist, Tiffany was able to find a perfect contract for Paula.
"When I was at one contract in particular it was truly a magical place. I was involved with the kids, their families, and all of the other disciplines and it was absolutely wonderful to see the potential that these kids have when all of these services are available to them in one place. It was nice to witness the kids grow and to help their parents recognize the potential and the possibilities their kids had because of the access they had to excellent care at this site."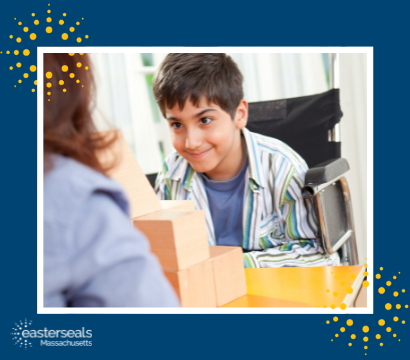 There are always opportunities for new experiences and growth while working at ESMA whether that is a new setting, contract, or working with another department. Also, the entire leadership team is positive, supportive, and very honest.
"From the CEO down, they are quick to recognize when someone has done a good job and regularly offers praise. When COVID hit, everyone was nervous and wondering what would happen. The leadership team was always checking in to see how remote therapy was going, what was and was not working, and there was open communication."
It helps that the leadership team at ESMA consists of therapists, so they understand what therapists are going through daily. Working at Easterseals Massachusetts is an excellent opportunity for both new graduates and experienced therapists alike who are looking for meaningful work. ESMA is truly a mission-driven organization that adheres to its core values of Respect, Commitment, Integrity, and Collaboration.
---
Are you interested in joining the 

Easterseals

 Massachusetts Rehabilitation Services team?  If so,

click here

to learn about our current career opportunities.