The History of Art and Disability
Blog by Olivia Murphy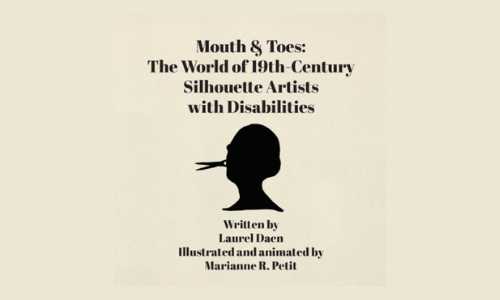 Recently I had the pleasure of attending a virtual seminar called "Mouth and Toes: The World of 19th-Century Silhouette Artists with Disabilities hosted by the American Antiquarian Society." The seminar discussed 19th-century art from disabled artists. These artists were unable to use some if not all their limbs. they created art with the use of their mouths. It was mainly paper silhouettes. The speakers have done extensive research on the artist Maryann Honeywell as well as Sarah Rogers, and Saunders Kew Grems Nellis. The seminar explored their lives as they traveled around the world performing and selling their art pieces which were in the form of silhouettes. The artists expressed themselves through visual art and performance while breaking stereotypes of what art should be and how it should be created. I may not be an artist like them but as a disabled woman, I am incredibly inspired. When I was a child art was never something that I considered myself good at. Growing up as a disabled child I was told in art class that I was never good enough. It may look a little different because I have fine motor issues but that should not make it any less of art. In high school I was in a digital art and design class where a teacher discouraged me from continuing in the class because I couldn't draw a circle with a mouse using the computer program InDesign. Someone's inability to not be able to do what seems like a simple task should not be viewed as a reason to not create art.
"Anyone should be able to express themselves creatively using art no matter the medium. Art is ultimately just a form of communication. I often think about how art is actually a more universal form of communication than verbal language given its capacity for inclusive participation."





---
---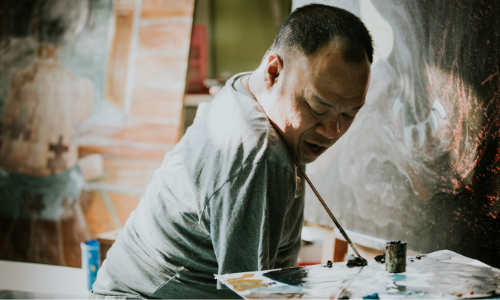 Everyone's art looks different and can be unique. A local Worcester artist, Cesar Rodriguez is another modern-day example born with a disability called spinal muscular. He lost his ability to paint and Easterseals Massachusetts assistive technology department created custom technology to help him be able to express himself through painting again. In fact, he has been very successful supporting himself by selling his original art, prints, and doing public art shows. Just because someone may not be able to paint or draw no matter their reason a person with a disability can utilize computer-aided design programs such as Photoshop in design and Canva to name a few. With the use of these technologies, disabled people can freely and creatively express themselves.
Click here to explore Liv's other blog topics.