Starting National Disability Employment Awareness Month with Orion's Story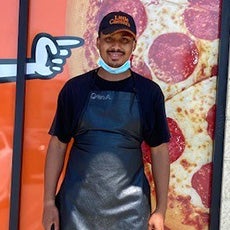 This October, the U.S. Department of Labor (DOL) marks the 75th observance of National Disability Employment Awareness Month (NDEAM) in addition to the 30th anniversary of the Americans with Disabilities Act (ADA), which occurred in July. Both milestones are being commemorated with a range of events and activities centered on the theme "Increasing Access and Opportunity."
In recognition of NDEAM, we are sharing new Stories of Success this month from our WorkFirst Employment Services. The stories demonstrate how participants have been provided with benefits from their jobs that go beyond a paycheck, starting with Orion.
Orion
Orion has been employed at Little Caesars Pizza for more than a year. He assists with food preparation, restocking inventory, and keeping the kitchen area tidy. He is working more hours now than he was when he started, per his request.
To Orion, having a job, "means that I am capable of motivating myself to do something new." In addition to the financial benefits, he also feels that it "helps me learn new things that I have not done before, and helps me gain experience for other things in the future."
After searching for a job a few years on his own, Orion was connected with Easterseals, where he received guidance and support with contacting employers, applying for jobs and the interview process.
His boss, Jazmin, says that Orion is a great employee and gets along well with all his co-workers. She says Orion's work shows, like any individual, "people with disabilities work in competitive jobs."
Orion's Easterseals Job Coach Veronica support's Orion in his job by reviewing his job tasks and the employer's company policies and procedures with him. She also is available to, "assist him with advocating for himself, if needed."
Orion added, "working is good for people because they experience things they have probably never done before and it will bring more financial liberation to them. The longer someone works the more financial freedom they will get."
"My advice is to go out, be confident, stay motivated and do not give up."
Sounds like good suggestions to us!
Learn more about WorkFirst Employment Services and our WorkFirst Transition Project.