Children's Services
Child Development Centers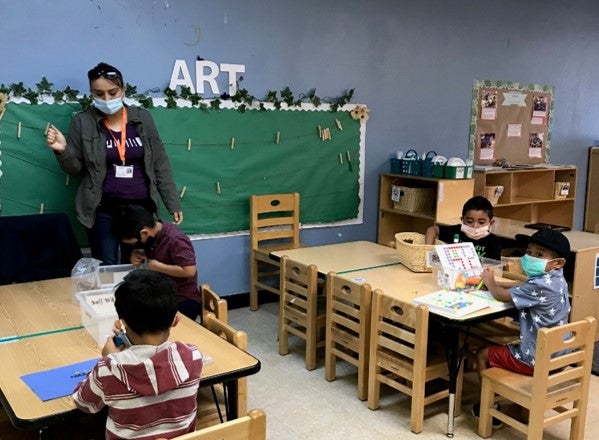 Easterseals Child Development Centers (CDCs) serve children from birth to five years of age. The centers feature safe and caring environments, state-of-the-art tools and programs, individualized learning plans, highly qualified teachers and are inclusive of children with or without disabilities. We emphasize active parent-CDC partnerships. Learn more about our services by downloading our 2019 Children's Development Services Annual Report.
Depending upon CDC location we offer:
Head Start and/or Early Head Start
Day Care
Disability Services
Health Services
Mental Health Services
Nutrition Services
Family Support Services
---

Apply For A Space Today!
To apply for a space in our program for your child(ren), click on a link below underneath your county area and fill out the form. You will receive a call from an Easterseals family support worker within the next 14 days.
San Bernardino County:
English: https://www.childplus.net/apply/en-us/F171123B3817F1E1FD66FE800C8E8747/C9B420934B86A4F60CC612D09F7C97DA

español: https://www.childplus.net/apply/es/F171123B3817F1E1FD66FE800C8E8747/C9B420934B86A4F60CC612D09F7C97DA

For questions call: 909.581.8162 San Bernardino County

Ventura and San Diego Counties:
English: https://www.childplus.net/apply/en-us/078F8296574A58D3E22AF7E3755C89A0/3777DC167F562DB64EAC7FE7A08630E

español: https://www.childplus.net/apply/es/078F8296574A58D3E22AF7E3755C89A0/3777DC167F562DB64EAC7FE7A08630E5

For questions call:
760.743.1185 North San Diego County
805.647.1141 Ventura County
---

---
Learn how Savannah was able to grow past developmental obstacles and meet her milestones with assistance from her local CDC.
PDF downloads with more information:
Make The First Five Count
Make sure your child is meeting developmental milestones. Easterseals also offers free online access to the Ages & Stages Questionnaires as a part of our Make the First Five Count Campaign.