Children's Services
Child Development Centers
Para traducir la página web a español, seleccione el botón ubicado en la esquina superior derecha del sitio web.
Easterseals Child Development Centers (CDCs) serve children from birth to five years of age. The centers feature safe and caring environments, state-of-the-art tools and programs, individualized learning plans, highly qualified teachers and are inclusive of children with or without disabilities. We emphasize active parent-CDC partnerships. Learn more about our services by reading our children's stories of success and by downloading our 2021 Annual Report.
Depending upon CDC location we offer:
Head Start
Early Head Start
Day Care
Disability Services
Health Services
Mental Health Services
Nutrition Services
Family Support Services
Also: Families receiving SNAP benefits (Supplemental Nutrition Assistance Program) may qualify for free early childhood education! Contact us for details at a regional location listed below!
---
Apply For A Space Today!
To apply for a space in our program for your child(ren), click on a button underneath your county area and fill out the form. You will receive a call from an Easterseals family support worker within the next 14 days.

For questions call:
909.581.8162
San Bernardino County
---
North San Diego County
Service Areas: Borrego Springs, Carlsbad, Encinitas, Escondido, Oceanside, Poway, Ramona, Solana Beach

For questions call:
760.743.1185
North San Diego County
---
Ventura County
Service Areas: Fillmore, Oxnard, Port Hueneme, Santa Paula, Saticoy and Ventura

For questions call:
805.647.1141
Ventura County
---


Job Listings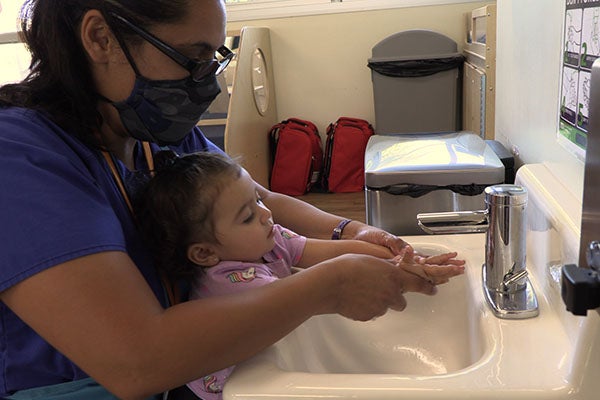 Discover current opportunities to be an Early Childhood Educator at Easterseals!
---
Learn how Savannah was able to grow past developmental obstacles and meet her milestones with assistance from her local CDC.
PDF downloads with more information:
Make sure your child is meeting developmental milestones. Easterseals also offers free online access to the Ages & Stages Questionnaires as a part of our Make the First Five Count Campaign.
Child Development Services 2021 Annual Report