Military Appreciation Month
May features anniversaries and events in honor of our troops, past and present. Read a few of our clients' stories of success to kick-off the month.
Read Stories
Our Purpose
At Easterseals, our purpose is to change the way the world defines and views disability. The services provided by Easterseals Southern California (ESSC) – in Los Angeles, Orange, San Diego, Imperial, Kern, San Bernardino, Riverside and Ventura counties – make profound and positive differences in people's lives every day, helping them address life's challenges and achieve personal goals so that they can live, learn, work and play in our communities.
Show Me Information For
That's My Easterseals PSA
Easterseals That's My Easterseals national PSA campaign is a video series created by, directed by, and starring actors, influencers, and activists – all with disabilities.
Learn More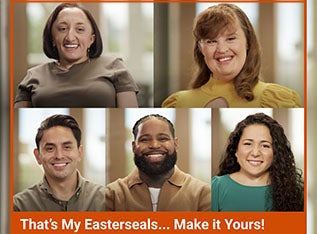 What's New At
Easterseals Southern California
Michael's Journey to Meaningful Employment During the Pandemic
After six years of honorable service, Michael and and his family faced the daunting task of transitioning to the civilian workforce during the COVID-19 pandemic with the help of the Bob Hope Veterans Support Program team.
Recent Posts From
Easterseals Southern California