Events
Your participation in an Easterseals event can help change lives. Whether it is joining a walk, entering a tournament, or sharing the news - there are a number of ways for you to support people with disabilities and special needs in your community.
---
California Disability Advocacy Conference
Discovering the Next Frontier; Charting Your Path Forward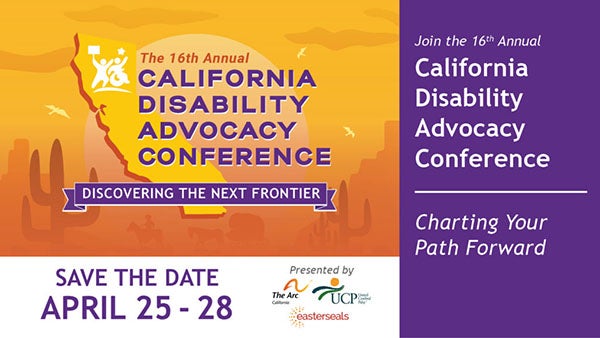 The 16th Annual "VIRTUAL" California Disability Advocacy Conference inspires, educates, and empowers attendees to become advocates for Californians with intellectual and developmental disabilities (IDD). The conference is presented by The Arc of California, Easterseals and United Cerebral Palsy. Each year, the conference features nationally-known speakers who have been trailblazers for promoting policies that improve the disability system, enabling people with IDD to live inclusively in their communities. Attendees include individuals with disabilities, their families and support staff, service providers and regional center employees, governmental officials, educators, and other leaders and advocates within the IDD community. We hope each attendee will walk away with a deeper understanding of the current disability system outlook, and a renewed sense of empowerment to design a future together where every person has an opportunity to live their best life.
Date: April 25 -28, 2023
Time: 9:00 a.m. to noon, daily
Place: Virtual conference via Zoom
Tickets: Early Bird ticket sales open on Wednesday, March 1st.
Learn more about speakers and topics and purchase tickets. (Link to thearcca.org)