Volunteer
Help Easter Seals Create Solutions and Change Lives
Creating solutions and changing lives is what we do at Easter Seals.
In the words of Edgar "Daddy" Allen, founder of Easter Seals, "We have but one life. We get nothing out of that life except by putting something into it. To relieve suffering, to help the unfortunate, to do kind acts and deeds is, after all, the one sure way to secure happiness or to achieve real success. Your life and mine shall be valued not by what we take...but by what we give."
If you'd like to volunteer, see the opportunities below or contact us and let us know what type of volunteering you'd like to do.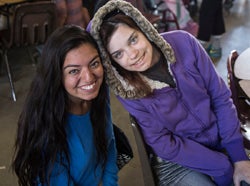 Our camp is completely run by volunteers!
Easter Seals camp is fully accessible and gives adults and children with disabilities the opportunity to have a typical camp experience including crafts, hayrides, talent shows, dances, swimming, horseback riding, canoeing, archery, hiking, concerts, storytelling, and a high and low ropes course.
Each year we have a limited number of staff volunteer opportunities available.
A few things you should know:
When we say volunteer, we truly mean it. There is no financial compensation but the rewarding life-changing experience is more than worth it.
You will need to be available for camp for a week, usually in early August.
Camp is held at YMCA Camp Oakes in the mountains of Big Bear.
Questions? Email the Camp Program Director.