Volunteer
Help Easter Seals Create Solutions and Change Lives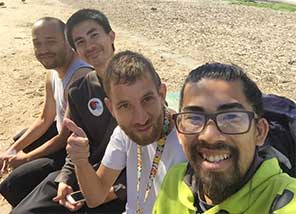 In the words of Easterseals founder Edgar Allen, founder of Easterseals, "We have but one life. We get nothing out of that life except by putting something into it. To relieve suffering, to help the unfortunate, to do kind acts and deeds is, after all, the one sure way to secure happiness or to achieve real success. Your life and mine shall be valued not by what we take...but by what we give."
Creating solutions and changing lives is what we do at Easterseals.
Since Easterseals services are provided by paid associates, we do not have a formal volunteer program. Volunteer opportunities we do offer are limited.
You can get involved with Easterseals by:
Volunteering at our October Strides for Disability Fundraiser (Please note: We will be observing all local and federal COVID-19 guidelines to make sure the event is as safe as it is fun. In order to ensure that everyone who attends, including our program participants and friends in the disability community, feels safe and celebrated, we are requiring every attendee who is eligible to be fully vaccinated.)
Participating in our Easterseals Disability Film Challenge as a film viewer.