Daily Coronavirus Update: March 30, 2020
Over the weekend, the President extended social distancing guidelines through April 30th, with public health officials cautioning Americans that the situation is still worsening across the country. This unprecedented public health emergency has compelled Congress to act swiftly and decisively to provide relief to American families and small businesses. More action is expected in April as funds reach affected parties and the situation at local levels changes.
Congress is out of session until at least April 20th, but work has already begun on what will likely be considered "Phase 4" of the COVID-19 relief packages. In spite of the extended recess, lawmakers and staff are looking at what issues may need to be addressed to meet the needs of the U.S. health care system, small businesses, and a growing number of individuals affected by the economic disruption caused by this public health emergency. We will provide more details on this as the next package takes shape, which will take place over several weeks.
The Administration continues to actively implement the recently passed legislation, which will see loans reaching small businesses over the course of the next few weeks. For example, the CARES Act, which passed last week, provides $350 billion in federally-backed loans through the Paycheck Protection Loan program. These loans will be available through December 31, 2020, with the size of the loan being determined by overall payroll costs of the eligible business.
These loans are available to small businesses, nonprofits, and other entities with fewer than 500 employees, unless otherwise specified by the Small Business Administration industry-specific standards. The loans can be used for payroll support, mortgage interest, rent, and utility payments. If you are interested in pursuing these loans, you should contact your bank to see if they are participating in this loan opportunity or contact your state's SBA local office to find an eligible bank.
Programming Note
With Congress on recess, we are moving this daily update to a Monday/Friday update. We are here to answer any questions that come up over the course of the week, but in this way we will provide a capture of issues that arise throughout the week as well as guidance and opportunities that are relevant to Easterseals.
Other Relevant Guidance and Opportunities
The U.S. Department of Labor (DOL) Announces $22 million in grants for the Homeless Veterans' Reintegration Program. There will be a webcast on this opportunity on April 3, 2020, at 2pm E.T. For more information, click here.
DOL also updated their Questions & Answers document as it relates to paid sick leave and expanded family and medical leave provisions included in COVID-19 relief packages. Please click here to access this document.
The Department of Education released supplemental fact sheet titled, "Addressing the Risk of COVID-19 in Preschool, Elementary and Secondary Schools While Serving Children with Disabilities." Please click here to access the guidance.
As more information becomes available on how small businesses and individuals can access relief opportunities, we will share that information and provide details on next steps that the Administration and Congress are considering. Again, do not hesitate to reach out to us with any questions you have about what Congress is doing and how it could impact you and the community you serve.
_________________________________________________________________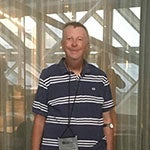 Easterseals Ambassador Howard McBroom Helps Adult Day Services (ADS) Participants Become More Outspoken Through Weekly Advocacy Classes