Careers with Easterseals
Building a Workforce as Diverse as the Communities We Serve
Easterseals Southern California (ESSC) offers fulfilling jobs that make a difference, a supportive work environment, flexible schedules, professional development, and career advancement opportunities.
At ESSC, we value the uniqueness and dignity of each individual and their contributions to our organization. Our strength is in our diversity, and every day, we strive to uphold our values of respect and inclusion for all. Through programs and services tailored to meet the needs of individuals, Easterseals supports full participation and inclusion within the local community.
Learn more about our Diversity & Inclusion programs
Benefits
Recruitment Process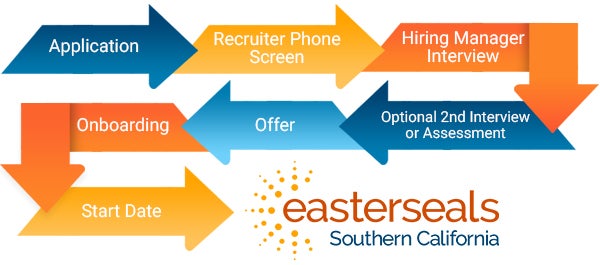 Application > Recruiter Phone Screen > Hiring Manager Interview > Optional 2nd interview or assessment > Offer > Onboarding > Start Date
Southern California Job Locations
Easterseals is always looking for passionate, experienced professionals to join our team throughout our locations serving Kern County, Los Angeles County, Orange County, Riverside County, San Bernardino County, San Diego County, Ventura County. Click the button below to review our open positions across Southern California and apply today!
Hot Jobs!
Behavior Interventionist
What it's like to be a Behavior Interventionist:
BI Career Path
Level up your career with our BI Career Path!

Increased opportunities for merit increases to twice a year
Clear path to becoming an RBT
Regular contact with supervisors to discuss growth and development
Merit-based job titles to match your level of growth
If you don't find a position of interest, please visit again -- listings are updated often.
Easterseals Southern California is an Equal Opportunity Employer.