Easterseals Living Options' Coordinated Life Services Supports Mellisa's Mental Health Journey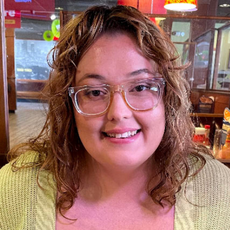 The destruction of people's physical and mental health from trauma, heartbreak and loss have been frequent story themes during the COVID-19 pandemic. We're happy that Mellisa's story has a very different outcome.
In the years before the pandemic, Mellissa had managed to keep moving forward despite the hardships she had experienced in childhood including physical and emotional abuse. Her teen years included stays in foster homes, a misdiagnosis of her mental health issues and wrongly prescribed medication. These contributed to years of emotional and behavioral struggles. Eventually she temporarily lost custody of her children.
By 2020 she was married, had regained custody of her two children, and she and her husband had two more children together. Mellisa was trying to make sure her children's childhood was better than hers had been, but she was still faced daily struggles with depression, fear, and anxiety. She depended on her husband to do everything from cooking to shopping to taking the kids to school. After her previous experience, she no longer trusted medical professionals or any prescribed medicine to help with her struggles.
Mellisa's outlook began to change when her 8-year-old son received a diagnosis of autism from the local regional center. She had not been aware of autism before, but soon realized that the associated behaviors were ones she recognized in herself. She soon had her own referral to the regional center resulting in her own autism diagnosis, and additional resources.
The regional center brought in Easterseals Coordinated Life Services to support Mellisa with her journey to emotional stability and an improved quality of life for herself, her son and the rest of their family.
Her Easterseals Community Support Specialist, Gia, was a supporter and advocate whose encouragement, praise and cheerleading was invaluable in assisting Mellisa with getting her life back on track. Since Mellisa was uncomfortable with video calls, they had long phone appointments during the pandemic where they worked to lift Mellisa out of her depression, help her overcome her fears, and tackle her anxiety.
"Through our conversations together, I coached and mentored her to advocate for herself," said Gia. "Rather than giving up on treatments because of a previous bad experience, Mellisa developed the courage to speak up for herself to ensure the care she was receiving had a positive impact."
Gia also encouraged Mellisa to accept input, consider different options, and supported her with her decision-making. In the process, they reduced her difficulties with communication and developed a relationship based on trust, where Mellisa learned to accept praise and support.
"In many ways, Mellisa is no different from the women I have worked with in my previous role as a marriage family therapist," added Gia. "She just needed the courage to focus on her own self-care, change things up in her life and advocate for her and her son's needs."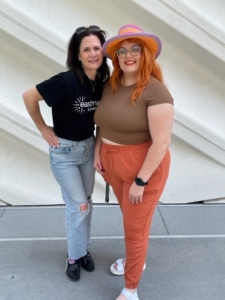 With Gia's support, Mellisa secured her son an Individualized Education Program (IEP) at school, and developed a new relationship with a therapist that has empowered her and helped her find her voice. Setting aside the mental health stigmas that can be part of her Hispanic culture; she made the decision to try taking a new medication, which added to the transformation of her life. She now goes to the gym, maintains her therapy and has a better relationship with everyone in her life.
Reflecting on her experience with Gia, and how their bond helped turn her life around, Mellisa commented that, "She helped me feel like I had an advocate" adding, "we need more people who give us warmth and treat us as actual human begins and not just as a 'case'."
Mellissa now focuses on paying it forward, looking to add her voice to the movement to end the stigma around mental illness and increase available resources to benefit and transform the lives of others.
Check out the video of Mellisa and Gia's reunion at The Broad art museum in Downtown Los Angeles, a place they talked about visiting after the pandemic! When The Broad heard Mellisa's story, they provided VIP tickets so she and Gia could see all the museum's fabulous exhibits in style!