Bob Hope Veterans Support Program Success Story
Santiago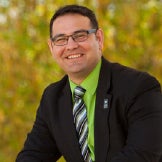 Santiago is a veteran who served for 16 years in the United States Army. He completed 3 combat tours; two in Iraq and one in Afghanistan. His last tour was as a Senior Instructor.

After being referred to the Bob Hope Veterans Support Program by a former client, it was determined that Santiago wanted to leverage his experience in the Army to serve other veterans in a civilian role.

"After my last deployment, I made the decision to transition to the civilian world and I was not prepared. I didn't know what I really wanted to do. I know a lot of veterans find it very difficult to ask for help," says Santiago. "I want them to realize, they've never done anything alone, everything they have done they have done has been in the concept as a team. Why not do that as you transition? I encourage other veterans to reach out and get the help that is out there for them."