Diversity & Inclusion
Easterseals Southern California's strength is in our diversity and inclusive culture. We are committed to making sure our leaders, staff, volunteers and partnerships are as diverse as the communities we serve. Easterseals, in action and advocacy, prioritizes equity, respect and belonging.
Every day, we strive to uphold our values of respect and inclusion through programs and services tailored to meet the needs of individuals. As part of our work toward our goal of making Southern California the most inclusive place for people with disabilities by 2030, we want a workplace and communities where everyone can RISE.

RISE (Respect, Inclusion, Self-Awareness & Equity) supports our D&I statement with our associates and individuals we recruit so that everyone knows that ESSC is an inclusive organization that values diversity.

RISE encompasses all of the elements we aspire to embody as an organization to support our participants, our associates, and our community. RISE will help guide our culture and practices leading to a more diverse, equitable and inclusive workplace.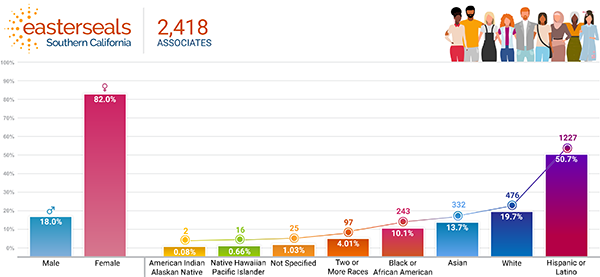 The IDEA team focuses on increasing the accessibility of autism services to groups who have historically faced barriers to service access. IDEA works with RISE to develop resources for associates to ensure our services are inclusive to the diverse populations we serve and to advance health equity in our communities. The team meets regularly regarding initiatives focused out on outreach, partnerships, and clinical resources. For more information or to get involved, contact Khrystle Montallana at
Khrystle.Montallana@essc.org
.