Thomas Advanced in His Job thanks to Easterseals WorkFirst Employment Services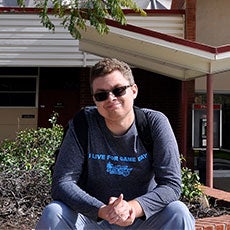 Finding employment and continuing his education were always priorities for Thomas. He was already working as a greeter at Legoland when he was referred to Easterseals WorkFirst. Thomas decided he wanted to advance to a different position with Legoland to get the opportunity to earn a higher hourly wage. As a team, his WorkFirst vocational specialist and the HR team at Legoland developed a strategy to give Thomas the support needed to move up into a role where he worked the cash register.

Working alongside his Easterseals job coach, Thomas began assuming cashiering duties for several hours at a time, handling both cash and credit card transactions. Initially, Thomas was a bit nervous about making change, but his job coach set up educational sessions for Thomas where he would practice the roles and duties of a cashier. "The job coach gave me more confidence when it came to counting change," Thomas said.

"I am glad that I was connected with WorkFirst," he said, adding that Easterseals helped him to get a better job. "I would tell anyone to 'just do it' when it comes to WorkFirst."

Thomas is currently taking coursework to complete his EMT certification to become a dispatcher or an EMT.
Learn more about WorkFirst Employment Services here.