Leaving a Legacy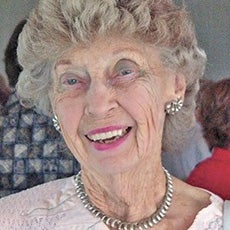 Edith Garvey believed that anyone ccould be a philanthropist regardless of wealth or status and Edith was a genuine philanthropist. She was a teacher, first in Illinois then in the El Segundo area of Southern California. She supported many non-profit organizations including her alma mater, the University of Illinois in Champaign, and Easterseals. Edith was active in her South Bay community, sharing her vibrant personality with her bridge group, her church friends, and members of the Torrance Civic Chorale, of which she was a member.
Her $10 or $15 donations were not large, but she gave on a regular basis. In 2012, Edith noticed she had not received her yearly Easterseals calendar in the mail so she made a call to the Easterseals Southern California office. A member of the Development team volunteered to drop one off in person. During their visit, Edith learned more about Easterseals services and was invited to tour a local Adult Day program site. Passionate about helping others and creating a better world, it was then she decided to include Easterseals in her will.
Edith passed in 2015 and with the bequest she left to Easterseals Southern California, our local Living Options home in Torrance was able to fully equip with ADA compliant devices assisting the disabled residents today and for the future.
Go to easterseals.planmylegacy.org or call 714.834.1111 ext. 5027
for information on how YOUR Legacy can make a difference!