ESSC Child Development Center Graduates Miranda and Nicholas Excel in School as Miranda Prepares for College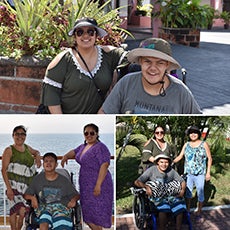 Miranda is a senior in high school who is preparing to attend Cal Poly Pomona next year to study nursing and become a registered nurse. Her brother, Nicholas, who is in 11th grade is excelling and getting A's and B's in all his classes. Both siblings attended ESSC's Child Development Center (CDC) Early Head Start program in Upland in 2004 and 2005 when they were toddlers.
The socialization skills and basic skills they learned in the program were instrumental in their success in school and beyond, according to their mother Lisa. It also helped their family to have safe, welcoming environment where their children were cared for while Lisa went to work.
"I was very thankful that I had a place to leave my kids for the day while I was at work," Lisa said. "I knew that they were in the best care. My son's teacher, Roxanne, was one of the best teachers anyone could ask for. She is extremely nice and caring for every child she cares for."
Miranda, now 17, fondly recalls acquiring several important life skills while attending the CDC, including learning how to make breakfast for her little brother, tying her shoes and learning how to jump rope on the playground.
ESSC Early Child Educator Roxanne Castaneda, remembers teaching Nicholas and working closely with the family to help him accomplish his goals. "Lisa was a great parent," she said. "She was always involved in the program and made time to talk and listen to what we had to say about Nicholas and how his day was. Lisa was always working with us to help Nicholas accomplish his goals that we had set for him."
ESSC's Early Head Start programs promote the physical, cognitive, social, and emotional development of infants and toddlers through safe and developmentally enriching caregiving. This prepares children for continued growth and development and eventual success in school and life.