Camp Marks 45th Year With Life-Changing Experiences for Campers and Volunteers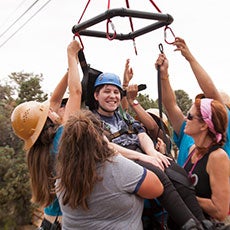 Campers and volunteers convened at the 45th Easterseals camp August 5-11, 2018, at Camp Oakes in the San Bernardino Mountains for a fun-filled week of activities including canoeing, archery, music circles, swimming, dancing, arts and crafts and ziplining.
Easterseals Camp is staffed by a team of volunteer counselors, many of whom have been paired with the same camper for several years and have formed a close bond, such as counselor Andy Thompson and camper Josh, who have been partnered up for more than 25 years. "We're like family now," Andy said. "I feel almost selfish coming to camp to hang out with great people like Josh and the other campers and counselors. I get to recharge soul-wise."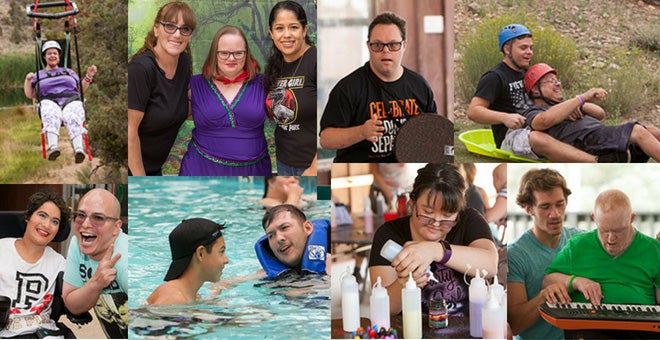 On August 9, campers attended the "Solar Eclipse of the Heart" dance, an evening where they got all dressed up and danced the night away. More than 20 CVS beauty consultants and four hairstylists volunteered their time to assist the campers with their make-up to prepare for the dance. The campers couldn't have been more excited about their makeovers, and the volunteers agreed that it was an incredibly rewarding experience.
"One of the great things [about Easterseals Camp] was learning to dance again," said Gina, a camper from Temecula who realized after attending her first camp dance that she could enjoy dancing in her wheelchair. "In my younger days…we would go and dance, and I thought that part of my life was over. I didn't think I'd be able to do that again. Coming to camp I realized I can dance in my power chair."
In keeping with this year's "Eco-Camp" theme, counselors decorated the cabins to look like rainforests, jungles and other exotic locales. Additionally, in an effort to be more environmentally friendly, plastic straws were replaced with paper ones, Styrofoam bowls were replaced with recycled biodegradable paper bowls, and disposable coffee cups were replaced with ceramic ones. Organic personal care product brand Dr. Bronner's generously donated items for everyone, including hand sanitizer, lotion, soap, and toothpaste for the first time this year.
CVS also generously donated $2,600 worth of medical supplies, Gatorade and more, and gave away goodie bags to each camper containing sunblock, a thermos cup, and other useful items.
This year, 117 campers attended Camp, ranging in age from 19 to 67. Check out the Easterseals Camp photo gallery here.
Congratulations to everyone involved in making this year's Camp another tremendous success! View the 2018 Easterseals Camp highlight video below, and learn more about camp by clicking here.