Keshaun: Rap Artist in the Making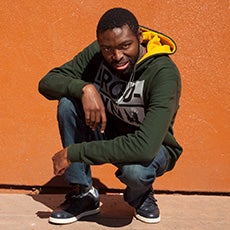 "I think music saved my life," Keshaun explains, referring to a difficult life at home growing up, being bullied in high school because of his autism and past challenges with anxiety, depression, anger management and aggression.
Now, with the help of Easterseals, Keshaun has a positive outlook on life and hopes for a career as a rap artist…one who makes a social impact with an antibullying message that gives kids hope.
"I got mistreated because of the way I am. Now I want to make my voice heard, to become an activist and use that platform to let people know that they can feel good about themselves. They don't have to be alone or scared. Whatever your dream is – lawyer, doctor, president, whatever – follow your heart and mind. Anything is possible."
When Easterseals Adult Day Service learned of Keshaun's music talent and interest in becoming a rapper, they arranged an opportunity for "Young K" (Keshaun's rap moniker) to work with a producer to lay down tracks of his original music at the Legler Benbough Teen Idea Lab sound recording studio at the Malcolm X Branch of the San Diego Public Library. "It was the coolest experience," recalls Keshaun, noting that it's not cool clothes or fast cars that motivate him.
"I knew who I was and that I was going to make great music. I am destined to do this for the rest of my life, to make music for people that's positive…If they're having a bad day, they can listen to my music, feel it and relate."
Adult Day Services supports adults to gain more independence through building work-related, social, daily living and self-advocacy skills. Learn more about Easterseals Adult Day Services