Adult Day Services in San Pedro Receives a Special Safety Presentation from Local Fire Station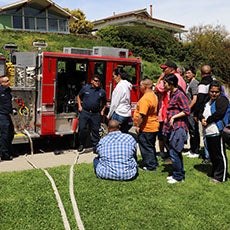 Several participants from Adult Day Services (ADS) in San Pedro recently received a special safety presentation from LA Fire Station 101. The participants and their ADS Life Skills Coaches gathered in picturesque Averill Park to meet members of the fire station, including firefighters, engineers who drive the fire trucks, paramedics and Fire Captain James Beck, who arrived at the park in full gear with their firetruck.
"This was interesting and they're big on safety," said ADS participant Maddy. "We often see them out in the community and this makes us more comfortable."
As part of the presentation, the firefighters showed participants their gear, breathing apparatuses, hoses, medical supplies and tools so they would become more comfortable with them in the event of an emergency. They also explained what should be done in the case of various types of emergency situations, how to call 911 and what would happen as a result, and explained what some emergencies might look like.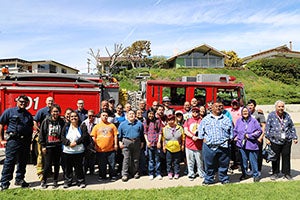 "It's important that everyone in the community is aware of safety precautions, especially those that may have special considerations so they know what to do," said Captain Beck. "They might want to know ahead of time in case of an emergency rather than at the time of the emergency."
This event was a great complement to the monthly fire drills and safety trainings that take place at ADS in San Pedro. This was a great opportunity for participants to interact with first responders in a non-emergency situation to become aware of what they do and learn what to do in the event of an emergency. Some of them have seen this first-hand when the fire department has come out to provide assistance when someone has had a seizure or a diabetic emergency.
After the safety presentation, fire station members took time to answer several of the participants' questions and show them around the fire truck.
A big thank you to Fire Station 101 for their time and expertise!​
Check out the highlights in the video below: