Easterseals Welcomes Four Housemates to Their New Home In Pasadena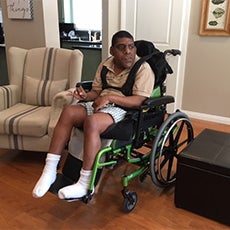 Anthony hanging out in his new living room.
As part of Easterseals Southern California's (ESSC) ongoing commitment to help individuals live, work, learn and play in their local communities, our Residential Services (one of the services offered by our Living Options) recently welcomed four new residents - Janna, Dori, Deborah and Anthony - into their new house in Pasadena.
While ESSC's other residential homes serve individuals moving from many years of living in state Developmental Centers, to community-based living, this home is the first specifically established for individuals requiring specialized medical care who had previously been living in an Intermediate Care Facility for multiple years.

"Easterseals has always envisioned a world in which everyone can live in a safe and affordable home with appropriate supports versus in congregate living," said Lupe Trevizo-Reinoso, Vice President, Living Options. "Now, after several years, we were able to secure the funds to make this home a reality."
Purchased by ESSC, the house was retrofitted to serve the client's specific needs. The staff, which provides 24-hours a day support, includes multiple Licensed Vocational Nurses (LVN) and is supervised by a District Manager and Residential Administrator.
The housemates each have their own private bedroom as well as a nice back porch and fruit trees in the yard to enjoy between watching television and helping out in the kitchen.
Easterseals worked with the Frank D. Lanterman Regional Center and the client's care facility to identify the new residents and then worked with Janna and Dori's mom and Lanterman representatives to ensure a smooth transition into the new home for everyone.

ESSC's Living Options, which supports people to live at home instead of in institutions, offers a variety of independent living services supporting more than 150 people. Learn more about the services Living Options provides here.