Gavin Makes Tremendous Progress Thanks To Easterseals Physical Therapy Service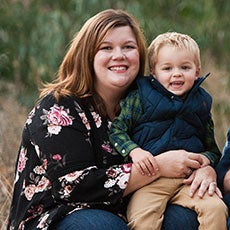 Gavin and his mom, Maggie.
Like most infants, Gavin was reaching his initial developmental milestones — rolling over, sitting up and crawling. But soon his peers began outpacing him, and his mother, Maggie, began to sense that his development wasn't on track. She took Gavin to see his pediatrician, who diagnosed him with gross motor delay, meaning he was exhibiting signs that he would be delayed in the development of his large motor skills such as walking, running and jumping. The pediatrician gave them a few treatment options, and urged them to seek help from Easterseals Southern California.
"After reading through the therapy options available via Easterseals, I knew this was the place for us," Maggie said. "I felt comfortable knowing that if Gavin's delay — which was a mystery to us at the time — resulted in other delays or diagnoses, that they would have a team to support us."
Maggie and Gavin met with a physical therapist at Easterseals' Autism Services Therapy Center in Thousand Oaks.
"When we watched our therapist perform the initial assessment, we knew immediately this was the place for us," Maggie said. "She immediately took charge and helped him, and us. She got him to stand, walk, run, jump, slide down a slide, and walk up and down stairs. What seemed like basic skills were a struggle for him, but he did it."
Gavin received treatment at Easterseals from the time he was 15 months until he was three years old, and he recently "graduated" with flying colors. Today he has developed motor skills beyond the average for his age.
"Gavin loves to play and is very energetic," said his physical therapist, Denise. "We worked on stretching, improving awareness of tactile sensation in his feet, strengthening, and developmental play including crawling, standing, walking and climbing stairs with equal symmetry in both of his legs."
Denise pointed out that the commitment of Gavin's family to his treatment was a large part of the reason he came so far. "Gavin struggled early in his treatment to modify his impaired movement mechanics, but his parents stuck with the program and were diligent about his home program, which is why he made such good progress!"
"Gavin is proof that early intervention is a childhood right, not a privilege," Maggie said. "Thank you, Easterseals, for making this a smooth process and for the support we received from everyone. I truly know now what it means when they say, 'It takes a village.'"
To learn more about the therapy services provided by Easterseals click here.