For Immediate Release
Easterseals Southern California Expands 'That's My Easterseals' Disability Awareness PSA Campaign to Reach Communities of Color in SoCal
Spanish-Language PSA Launches Aug. 15th
LOS ANGELES/ORANGE COUNTY/SAN DIEGO, August 15, 2022
Media Contact:
VIcki Greenleaf, Greenleaf & Associates
vicki@greenleafandassociates.com
323.660.5800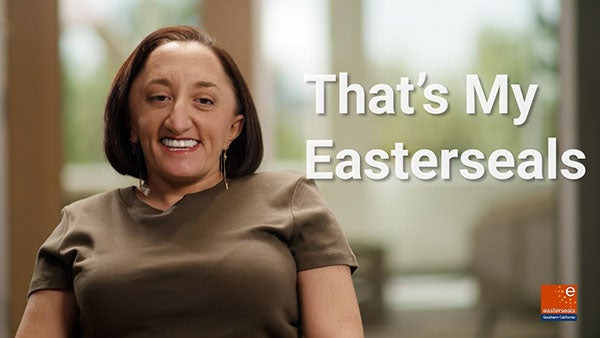 Easterseals is synonymous with working to advance disability equity in healthcare, employment and education and Easterseals Southern California (ESSC) is expanding the non-profit's That's My Easterseals PSA campaign to raise awareness in communities of color in Southern California.
According to the CDC, one-in-four U.S. residents, more than 61 million people across the country, have a disability. Of those, 23% live in California (more than 9 million), nearly 5.5 million of them in SoCal, where ESSC serves more than 15,000 people with disabilities and their families each year.
According to the CDC*, one-in-four African-Americans have a disability; one-in-five Whites; and one-in-six Hispanics. Yet people of color—"a minority within a minority" who experience disability differently than Whites and frequently experience more barriers to access diagnosis and treatment—are rarely part of the discussion.
The 2022 campaign aims to inspire people to take actions that support inclusivity of people with disabilities of all ethnicities, ages and socio-economic status as they live, learn, work and play in our shared communities.
Featured in a new, Spanish-language ad to be released Aug. 15 is model/actor Danny Gomez—who was paralyzed from the waist down in a 2016 mountain bike accident that nearly killed him—best known for roles in such hit shows as New Amsterdam and All Rise. Winner of an international model search with more than 700 applicants, he has appeared in ads for such top brands as Target, Facebook and Zappos, is an Easterseals Disability Film Challenge winner and was awarded the Christopher Reeves Acting Scholarship in 2020.
The ad campaign, in both English and Spanish, will appear on the CNN app, Hulu and on other online locations. It will also appear on billboards and transit shelter posters (launching Aug. 22) in Los Angeles, Orange and San Diego counties. The campaign will run through the end of this year.
Appearing in an English-language PSA that debuted in April is actress and disability activist Nicole Evans—who has Osteogenesis Imperfecta, a rare bone condition that necessitates her using a wheelchair—who also directed the Spanish-language version of the ad. Evans, an Easterseals Disability Film Challenge winner, has won three Best Supporting Actress awards in festival competition for her performance in the feature film Broken Dreams, had a recurring role on the hit TV series Superstore and has appeared in such other popular shows as Modern Family.
Commented Mark Whitley, president & CEO of ESSC, "Easterseals believes that each of us can take steps in our daily lives and come together to change how the world views disability and to ensure that everyone feels included, has access and equal opportunity in the workplace, in our schools and in our communities."
About Easterseals Southern California
Easterseals is leading the way to full equity, inclusion and access through life-changing disability and community services. For more than 100 years, we have worked tirelessly with our partners to enhance quality of life and expand local access to healthcare, education and employment opportunities. Easterseals Southern California provides essential services and on-the-ground supports to more than 15,000 people each year—from early childhood programs for the critical first five years, to autism services, daily and independent living services for adults, employment programs, veterans' services and more. Our public education, policy and advocacy initiatives positively shape perceptions and address the urgent and evolving needs of the one in four Americans with disabilities today. Together, we're empowering people with disabilities, families and communities to be full and equal participants in society.
Promotional Toolkit
# # #
Join the Conversation …
Easterseals.com/SouthernCal
Like us: www.facebook.com/EasterSealsSoCal
Follow us: www.twitter.com/EasterSealSoCal
* https://www.cdc.gov/ncbddd/disabilityandhealth/materials/infographic-disabilities-ethnicity-race.html