For Immediate Release
Local Marine Corps Veteran Served by Easterseals to Receive Gift of Life-Changing Power Chair from Bird
March 10, 2022
Media Contact:
VIcki Greenleaf, Greenleaf & Associates
vicki@greenleafandassociates.com
323.660.5800 / c: 323.573.5111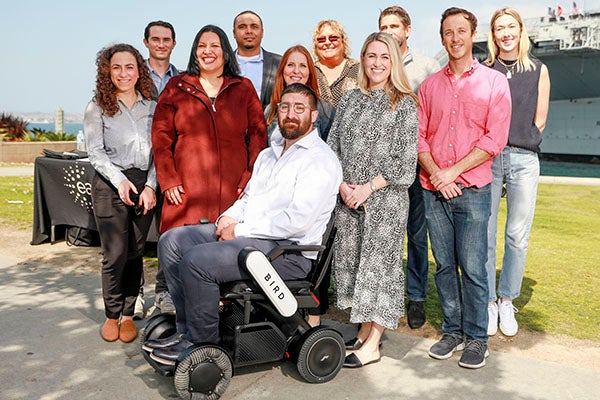 SAN DIEGO — March 10, 2021 — For Immediate Release: Bird Global, Inc. (NYSE:BRDS), a leader in environmentally friendly electric transportation, has teamed up with Easterseals Southern California (ESSC) to make life easier for an injured San Diego Marine Corps veteran with the gift of a Bird-powered WHILL/Scootaround Ci2 power chair to replace a borrowed wheelchair.
Corporal Nick Voss, 25, South Park—who grew up in Santa Fe, New Mexico—joined the Marine Corps in 2016. After attending boot camp at MCRD San Diego he was deployed, during which time he suffered a spinal injury in a helicopter accident. Following months in rehabilitation at San Diego's Wounded Warrior Battalion Naval Hospital, Voss found transitional housing through the Warrior Foundation Freedom Station.
Currently, Voss is working with ESSC's Bob Hope Veterans Support Program, which provides one-on-one employment services, as well as referrals to other resources, to meet the unique needs of military personnel and veterans transitioning out of the military into a civilian job, starting their own small business or pursuing higher education. Since launching in 2014, the program has served nearly 2,350 veterans and families with employment support and referrals, placing more than 1,192 with civilian positions and leading 196 to pursue academic degrees. The service is free to veterans.
According to the CDC*, 25% of U.S. residents, more than 61 million people across the country, have a disability. Of those, 23% live in California (more than 9 million), nearly 5.5 million of them in SoCal. Each year, ESSC serves more than 15,000 people and their families in San Diego and throughout SoCal.
Bird announced an On-Demand Accessible Mobility program in July 2021 in partnership with Scootaround, a global leader in personal transportation solutions. The program makes three custom vehicle types available to Bird riders with disabilities or other mobility issues, who can rent the scooters for 1-14 days. Available in five cities across the country to date—including three cities in California—the program launched in San Diego in December 2021 and is expanding this year.
Said Mark Whitley, President & CEO of ESSC, "Mobility is a critical issue in the disability community and programs like Bird's On-Demand Accessible Mobility are key to enabling people with disabilities to be fully included in their communities. We applaud Bird for not only assisting injured Marine Corps veteran Nick Voss but for launching this innovative program in San Diego and in cities across Southern California and the country."
"We are happy to offer this token of appreciation to Marine Corps veteran Nick Voss for his service," commented Blanca Laborde, Director of Government Partnerships at Bird. "Bird is committed to improving environmentally friendly mobility access for everyone and partnering with Easterseals Southern California has helped us march toward that goal. We look forward to continuing to find innovative ways to work together as we expand access to personal transportation services in San Diego and beyond."
Veterans or potential employers interested in learning more about the Easterseals Bob Hope Veterans Support Program, visit https://www.easterseals.com/southerncal/who-we-are/contact-us
Bird offers discounts to service members and veterans, to learn more please see: https://help.bird.co/hc/en-us/articles/360030673252-Service-Members-and-Veterans-Programs
About Bird
Bird is an electric vehicle company dedicated to bringing affordable, environmentally friendly transportation solutions such as e-scooters and e-bikes to communities across the world. Founded in 2017 by transportation pioneer Travis VanderZanden, Bird is rapidly expanding. Today, it provides fleets of shared micro electric vehicles to riders in more than 350 cities globally and makes its products available for purchase at www.bird.co and via leading retailers and distribution partners. Bird partners closely with the cities in which it operates to provide a reliable and affordable transportation option for people who live and work there.
About Easterseals Southern California
Easterseals is leading the way to full equity, inclusion and access through life-changing disability and community services. For more than 100 years, we have worked tirelessly with our partners to enhance quality of life and expand local access to healthcare, education and employment opportunities. Easterseals Southern California provides essential services and on-the-ground supports to more than 15,000 people each year—from early childhood programs for the critical first five years, to autism services, daily and independent living services for adults, employment programs, veterans' services and more. Our public education, policy and advocacy initiatives positively shape perceptions and address the urgent and evolving needs of the one in four Americans with disabilities today. Together, we're empowering people with disabilities, families and communities to be full and equal participants in society. Learn more at: https://www.easterseals.com/southerncal
# # #
* https://www.cdc.gov/ncbddd/disabilityandhealth/infographic-disability-impacts-all.html
Join the Conversation …Easterseals.com/SouthernCal
Like us: www.facebook.com/EasterSealsSoCal
Follow us: www.twitter.com/EasterSealSoCal
Media Contact:
Vicki Greenleaf
Greenleaf & Associates — o: 323.660.5800 / c: 323.573.5111
vicki@greenleafandassociates.com