For Immediate Release
Easterseals Southern California is Selected As State Training Agent for 2021 Disability Thrive Initiative
One of two organizations awarded contract to provide statewide training and technical assistance on the alternative service model
Irvine, Calif., December 3, 2020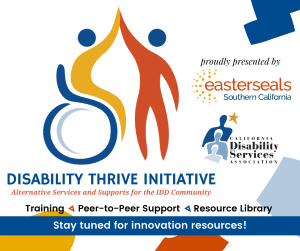 We are excited to announce that the Department of Developmental Services (DDS) and San Diego Regional Center have selected Easterseals Southern California (ESSC) to lead a year-long initiative to provide training and technical assistance to service providers throughout California to implement the Nonresidential Services Alternative Services Model.
ESSC was named as one of two agents selected, along with California Disabilities Service Association (CDSA), when DDS announced the award on Wednesday, Dec. 2, to Regional Center Executive Directors across the state.
Easterseals Vice President of Adult Day Services Kathleen Kolenda and Director of Person-Centered Services Amber Carey Navarette are the Easterseals representatives for the initiative.
The program aligns with our Vision & Impact Plan goal strategies to lead and improve the disability services field; and expand high quality, innovative services for people with disabilities and their families.
The initiative will consist of a number of activities designed to support the implementation of the alternative services model, including:
Training webinars
Free consultations with providers
Facilitation of peer-to-peer assistance
Online resource library
Trainings, information and resources will be available on a virtual library hosted by the State Council on Developmental Disabilities at https://scdd.ca.gov/IDDThrive/
For more information about the Alternative Services model, refer to the Department of Developmental Services' August 31, 2020 directive.