For Immediate Release
Easterseals Southern California Receives $1 Million in Funding to Expand Severe Behavior Services Program
One-of-a-Kind Program on West Coast Offers Help and Hope to Families
IRVINE/LOS ANGELES, October 12, 2022
Media Contact:
Vicki Greenleaf
vicki@greenleafandassociates.com
323.660.5800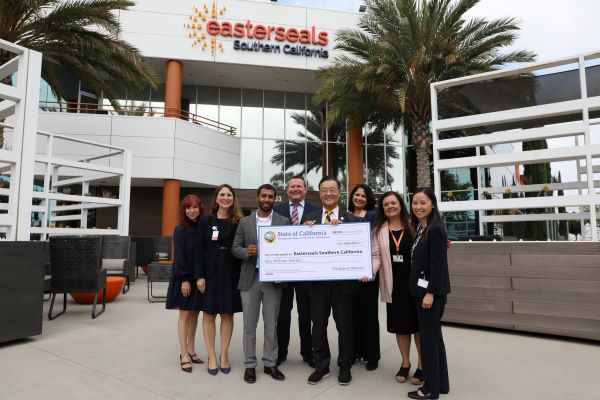 Easterseals Southern California(ESSC)—which assists more than 15,000 people with disabilities in Los Angeles, Orange, San Diego, Imperial, Kern, San Bernardino, Riverside and Ventura counties—will expand its Severe Behavior Services Program with $1 million in funding (AB 179) secured by CaliforniaAssemblymember Steven S. Choi, Ph.D. The presentation kicks off a $6-7 million fundraising effort with the goal of doubling the size of the program at a new Orange County facility.
According to the CDC, one in 44 children in the U.S. is diagnosed with autism spectrum disorder (ASD), with one in 26 kids in California diagnosed with ASD. An estimated 10-15% of children with ASD and/or other developmental disabilities develop severe behaviors—that cause damage to oneself, others or property—in their lifetime.
Characterized by repeated, sudden episodes of impulsive, aggressive, violent behavior or angry verbal outbursts, severe behaviors are a challenging and isolating experience for families. Examples include hitting, scratching, throwing objects, damaging walls, eating inedible objects and running away.
A recognized innovator and leader in the area of comprehensive services for people with autism and other disabilities, ESSC currently serves more than 13,000 individuals with ASD and their families, making it the largest autism services provider in SoCal. ESSC launched its Severe Behavior Services Program in early 2020 with the acquisition of the respected Center for Behavioral Sciences (CBS). The out-patient program is the only one of its kind on the West Coast.
Under the direction of Dr. Joyce C. Tu, Ed.D., BCBA-D, founder and Director of CBS, and Clinical Director Dr. Shaji Haq, Ph.D., BCBA-D, ESSC currently serves up to 18 people at two sites, located in Irvine and Northridge, but provides functional assessment, analysis and consultation throughout SoCal.
Commented Dr. Paula Pompa-Craven, PsyD, Chief Clinical Officer for ESSC, "We are so grateful to Assemblymember Choi for acquiring this generous funding on behalf of Easterseals Southern California and championing a singularly unique program to service people whose behavioral health needs are varied and intense and for whom treatment presents an array of challenges. This center will provide parents with access to the resources they need to provide their child with severe behavior with an individualized and integrated treatment option.
With most participants being nonverbal, the program employs an interdisciplinary team to provide intensive, short-term treatment—generally six months to one year, but can run longer—before transitioning the patient back into more traditional treatment in less restrictive services.
Added Dr. Tu, "There are very limited providers who offer severe behavior services and none that offer whole-person, long-term therapies. Help is generally found outside of California in an in-patient or hospital setting, which are costly and highly restrictive solutions. This one-of-a-kind, out-patient center means proximity to services, autonomy and hope."
About Easterseals Southern California
Easterseals is leading the way to full equity, inclusion and access through life-changing disability and community services. For more than 100 years, we have worked tirelessly with our partners to enhance quality of life and expand local access to healthcare, education and employment opportunities. Easterseals Southern California provides essential services and on-the-ground supports to more than 15,000 people each year—from early childhood programs for the critical first five years, to autism services, daily and independent living services for adults, employment programs, veterans' services and more. Our public education, policy and advocacy initiatives positively shape perceptions and address the urgent and evolving needs of the one in four Americans with disabilities today. Together, we're empowering people with disabilities, families and communities to be full and equal participants in society.
Learn more at: https://www.easterseals.com/southerncal
# # #
Join the Conversation …
Like us: www.facebook.com/EasterSealsSoCal
Follow us: www.twitter.com/EasterSealSoCal