For Immediate Release
Easterseals Southern California Celebrates Much-Anticipated Opening of Orange County Pyott Center
Funded by a Generous $1.75 Million Gift from the David and Molly Pyott Foundation, New Center Will Serve 200 O.C. Adults With Disabilities
June 13, 2022
Media Contact:
VIcki Greenleaf, Greenleaf & Associates
vicki@greenleafandassociates.com
323.573.5111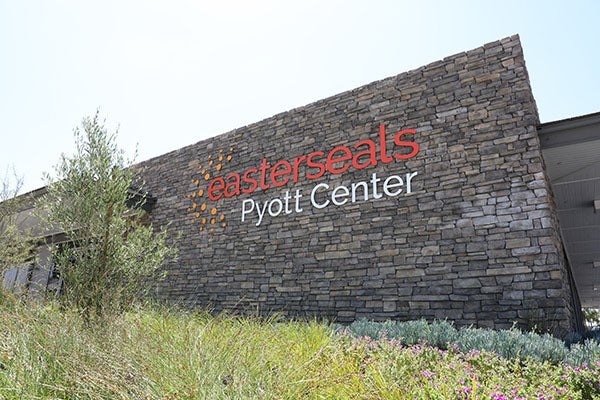 Easterseals Southern California (ESSC), which assists more than 15,000 people with developmental disabilities and their families throughout Southern California, will celebrate the opening of its new Orange County Pyott Center on June 14.

The newly renovated center in Santa Ana is located on the former site of the non-profit's corporate headquarters—which relocated to Irvine in June 2018—and was funded by a generous $1.75 million gift from the David and Molly Pyott Foundation, founded by ESSC Board Member and Former Chairperson Molly Pyott and her husband, philanthropist and former CEO of Allergan, Inc. David Pyott, who are long-time supporters of ESSC.
The gift was utilized to pay-off the mortgage and renovate the site to provide adult day services for individuals with physical and development disabilities. ESSC, which also has a senior center in Brea and an autism therapy center in Irvine, provides other local, community-based services throughout O.C., as well as in Los Angeles, San Diego, Imperial, Kern, San Bernardino, Riverside and Ventura counties.
The O.C. center will serve up to 200 individuals through on-site and community-based programs, providing them with the opportunity to become active members of the community by learning work-related skills and engaging in regularly scheduled volunteer work, community service projects and other activities.
WHO: Ribbon-Cutting Ceremony With David & Molly Pyott
WHAT: Orange County Easterseals Southern California Pyott Center
WHEN: Tuesday, June 14 @ 4 p.m., Ribbon-Cutting @ 5:15pm
WHERE: 1570 E. 17th St., Santa Ana, CA 92705
MEDIA R.S.V.P: Vicki Greenleaf — 323.573.5111 — vicki@greenleafandassociates.com
Commented Nancy Weintraub, ESSC Chief Advancement Officer, "Molly and David's extraordinary generosity of both time and financial support are unprecedented in the history of Easterseals Southern California and will make an enormous difference to the adults with developmental disabilities who will be served at this new site. We are incredibly thankful to them for helping us to expand our ability to serve more people at a new location in Orange County and Molly's continuing guidance as a member of our board."
Said Molly Pyott, "The original Santa Ana corporate office location holds a special place in the hearts of the staff and board members of Easterseals Southern California. Transforming the property into a state-of-the-art, adult day services center has elicited tremendous feelings of pride for us all. The expansion of important, life-changing services will create profoundly positive differences for people with disabilities in our community."
Design for the new adult day services center was by Newport Beach-based architectural firm H. Hendy Associates.
About Easterseals Southern California
Easterseals is leading the way to full equity, inclusion and access through life-changing disability and community services. For more than 100 years, we have worked tirelessly with our partners to enhance quality of life and expand local access to healthcare, education and employment opportunities. Easterseals Southern California provides essential services and on-the-ground supports to more than 15,000 people each year—from early childhood programs for the critical first five years, to autism services, daily and independent living services for adults, employment programs, veterans' services and more. Our public education, policy and advocacy initiatives positively shape perceptions and address the urgent and evolving needs of the one in four Americans with disabilities today. Together, we're empowering people with disabilities, families and communities to be full and equal participants in society.
Learn more at: https://www.easterseals.com/southerncal
# # #
Join the Conversation …
Easterseals.com/SouthernCal
Like us: www.facebook.com/EasterSealsSoCal
Follow us: www.twitter.com/EasterSealSoCal
Media Contact:
Vicki Greenleaf
Greenleaf & Associates — 323.573.5111
vicki@greenleafandassociates.com