For Immediate Release
Easterseals Southern California (ESSC) Launches Thrive Alliance Campaign
The campaign encourages donors to support ESSC's programs and services with monthly giving.
Irvine, Calif., April 26, 2021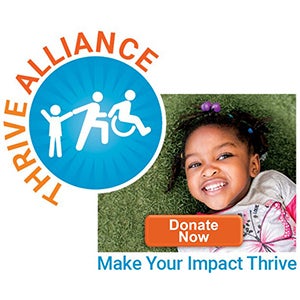 The Easterseals Development team recently launched Thrive Alliance, a campaign that allows donors to sign-up for automated monthly donations to help grow ESSC's programs and services. The initiative is centered on Easterseals 10-year Vision & Impact Plan's key strategies of Expand, Lead, Change and Thrive. Thrive Alliance will support long-term strategic advancements that will help our participants and their families THRIVE.

Thrive Alliance has already has welcomed 35 donors in its first two weeks. Its valued members include new and longtime donors who will give monthly and ESSC associates who have chosen to give monthly through employee payroll deductions.
This sustained giving campaign will help fund the expansion of virtual programs, internet access and technology resources for our participants. It also helps provide continued aid to families heavily impacted by Covid-19.
As ESSC continues to be the leading go-to resource in the field of disability, Thrive Allies are at the heart of sustaining ESSC's mission of changing the way the world defines and views disability, and we are grateful for their support!
If you would like to be a Thrive Ally, please visit: http://socal.easterseals.com/monthlygiving.