For Immediate Release
Disability Thrive Initiative Webinar
December 14, 2020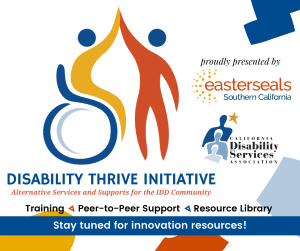 We invite you to participate in our first multi-lingual and accessible webinar to introduce the Disability Thrive Initiative! Interpreters will be available for ASL and Spanish.
DATE: Wednesday, December 16, 2020
TIME: 3:00 p.m. to 4:15 p.m.
REGISTRATION: To join the LIVE online event, please REGISTER EARLY at Webinar.DisabilityThriveInitiative.org.

AGENDA:

An introduction to the Disability Thrive Initiative by DDS Director Nancy Bargmann and partner organizations CDSA, ESSC and The Arc California
The importance of Alternative Services to the disability community by self-advocate and disability activist Elizabeth Grigsby
Enhancing services through collaboration and partnerships by guest presenters from INALLIANCE
How you, your family and service providers can THRIVE during the COVID-19 pandemic by ALE
Audience Q&A
We want to encourage everyone in the California IDD community to attend this WEBINAR. PLEASE share this news with your families and self-advocates.
Share the EVENT on Facebook or share our posts on Facebook, Twitter, and Instagram
We look forward to "seeing" you next week at the event!