For Immediate Release
Easterseals Participants and Century 21 Associates Decorate Century 21 Real Estate Christmas Tree
Downey, CA, December 12, 2019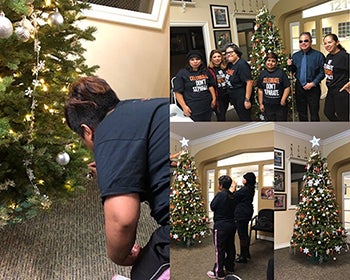 Yuritzi, an Adult Day Services (ADS) Downey participant, had never decorated a Christmas tree until Easterseals Southern California (ESSC) and Century 21 Peak Downey gave her the opportunity.
"It was my first time decorating the Christmas tree," Yuritzi said. "I put on the decorations and ornaments. It was fun!"
Yuritzi, as well as other participants and associates from ADS Downey, spent the morning of Wednesday December 4 at Century 21 preparing the ornaments and decorating the tree.
"This is a very special moment, I'm so happy for our participants because it's a unique experience," Amy V., Program Assistant for ADS Downey said. "A lot of them haven't had the opportunity to decorate a Christmas tree, and this is a goal for them to come and share with other people in the community."
The ornaments were orange and white, Easterseals' colors. They also decorated the tree with beads, snowflakes and a star on top.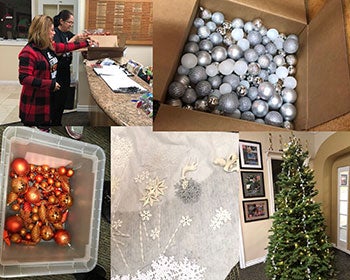 Valdiviezo said the participants had been excited for days, and their excitement showed as they decorated the tree with each other and employees from Century 21.
Russel S., the General Manager for Century 21 Peak Downey said this was Century 21's first time having ESSC participants decorate the tree.
"Every year we do an Easterseals auction, so we have our agents and vendors donate giftsand auction them off," Russel said. "So, I thought it would be a cool concept to have an Easterseals Christmas tree, so as people bring in auction items, we can put them under the tree to get people excited about the auction."
Russel and Century 21 are huge supporters of ESSC and have been for years.
"We believe in what they do," Russel said. "And we're passionate about them.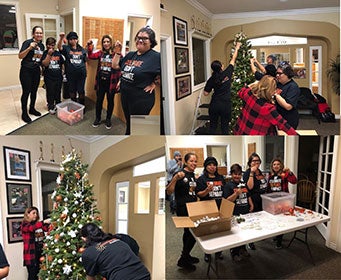 I think with the tree this year and having the Easterseals partcipants come do it—it gives a special charm, it's more authentic and I think it's a good thing."
Participants and associates also enjoyed hot chocolate and a pizza party after the decorating was done.