For Immediate Release
Autism Services Helps the Los Angeles Zoo Build a More Inclusive Environment
Easterseals' training program, featuring Ambassador Aaron Likens, teaches how to support people with autism and other disabilities during their zoo visit.
March 26, 2021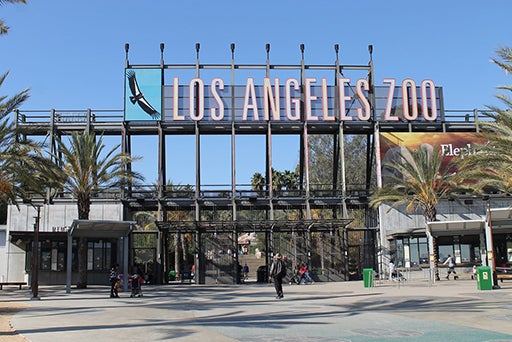 Last year, the Los Angeles Zoo began an effort to create a more inclusive environment for everyone, including those with autism. "The LA Zoo's Diversity and Inclusion team reached out to us in October looking for an autism awareness training for zoo staff," explains Alyssa Kavner, Autism Services Director of Quality and Training. "We saw this as a terrific opportunity to use our expertise to fulfill our Vision & Impact Plan to make Southern California a more inclusive place for people with disabilities."
Alyssa and her team created an hour-long training with Aaron Likens, an Easterseals Ambassador and public speaker who often shares his personal experiences of living with autism to broaden understanding. Aaron, who has done numerous presentations for ESSC for families, staff and medical professionals at Kaiser, also regularly presents at corporate events and has presented to thousands of FBI, sheriffs and other law enforcement agencies throughout the country.
"We ended up hosting four Zoom discussions with 200 frontline zoo employees, animal trainers and volunteers," recounts Alyssa. "Aaron shared insight on how he wished he would have been treated when he found himself in uncomfortable situations in the community. This gave the group insight into how to respond when they are faced with a similar situation."
It's also important for zoos and other organizations to develop proactive strategies to create an inclusive environment for people with Autism. Our training team explained how to identify opportunities for modifications to the zoo's physical environment and how staff can look for indicators of Autism."
Feedback from attendees and local officials was extremely positive. Carey Stone from the City of Los Angeles Department on Disability said the event was "the most well done training I can remember. Aaron's sharing of his personal experiences was informative and mind-opening. I liked the practical suggestions focusing on concrete examples instead of theory."
Paula Pompa-Craven, Chief Clinical Officer, says, "I had the opportunity to open each presentation, to participate in the discussion and hear questions from zoo employees. It's clear from their interest they really do want to build an inclusive environment for everyone. My hope is that similar organizations will learn more about what we did for the zoo and give us a similar opportunity to provide our insight and expertise."
To request a training, consultation, or workshop that can help you or your organization foster inclusion for people with disabilities, contact Alyssa Kavner at Alyssa.Kavner@essc.org.