For Immediate Release
Aaron Likens Lives Out His Dream as INDYCAR Series Flagman
Long Beach, Calif, September 27, 2021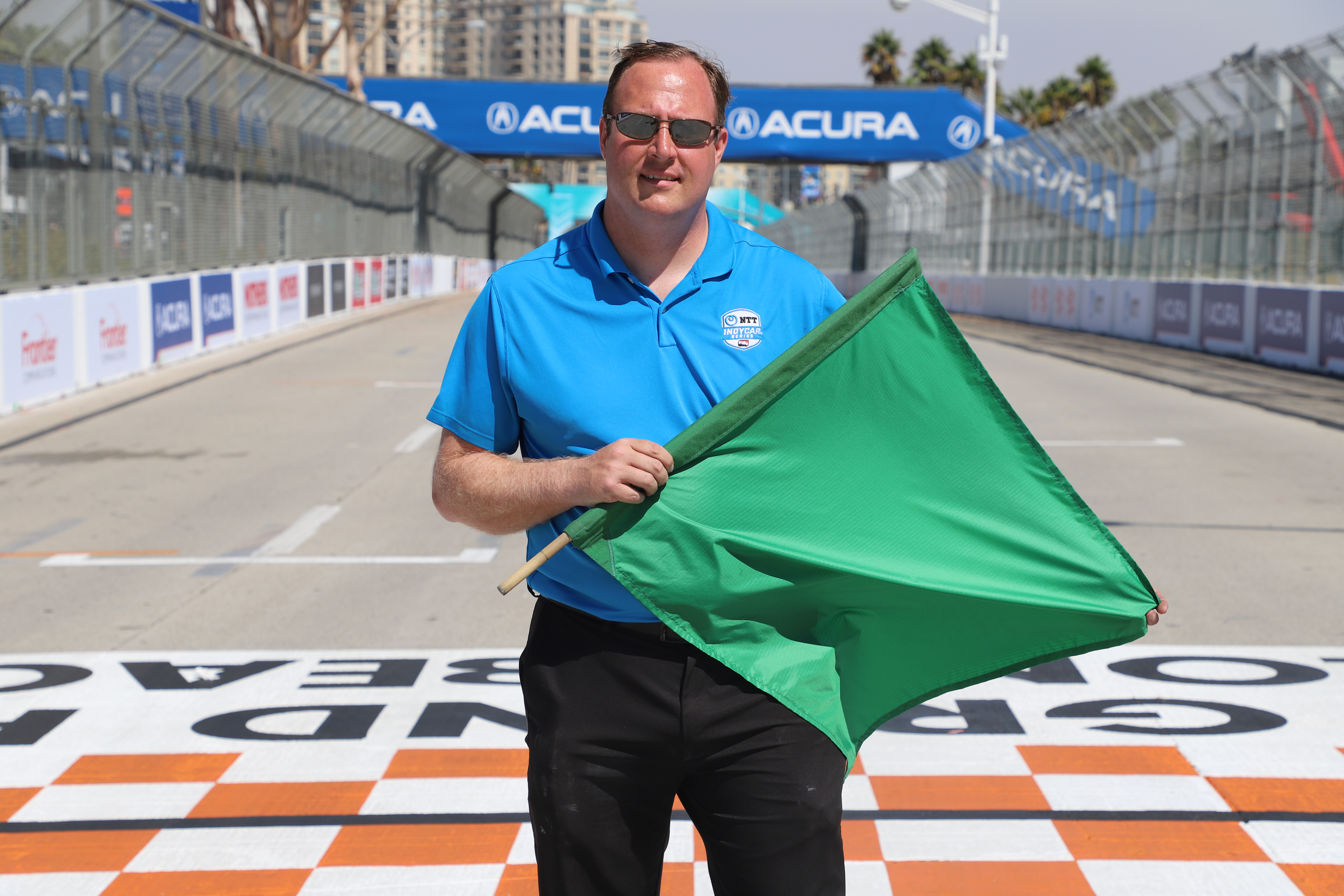 An avid Indy race fan since childhood, Easterseals Southern California Ambassador Aaron Likens, 38, was selected as the flagman for the full 2021 NTT INDYCAR Series, including the Acura Grand Prix of Long Beach season finale on Sept. 25-26. His journey—particularly for a man with an autism spectrum disorder (ASD) and sensory sensitivities—is an unlikely one.
Born in Indianapolis and raised in St. Louis near the old Riverdale Motorbike Track in Widman Park, Aaron was a fixture at the track growing up. He started as a flagman's volunteer assistant when he was 12 years old, Eventually, the teenage boy became the track's flagman and was even gifted with his own checkered flag hand-sewn by Mary Sweeney, wife of the long-time Indy 500 flagman Duane Sweeney.
Homeschooled, Aaron struggled with anxiety and social interactions. Normally, he would react dramatically to loud noises … But not at the races. Aaron felt confident on the track.
After several misdiagnoses, Aaron was finally diagnosed with Asperger's Syndrome at 20 years old and he felt like he was sentenced to a life without a job, relationship, or friends. However, his work as a flagman gave him the courage to navigate his way through the anxiety and depression he experienced after receiving his diagnosis. He continued to excel as a flagman and work at bigger and bigger races until he received the job offer for Duane Sweeney's prior position last year.
In addition to being a flagman and an Ambassador for Easterseals Southern California, Aaron is a national autism advocate; the author of Finding Kansas: Living and Decoding Asperger's Syndrome; an award-winning public speaker; and a coach for police departments across the United States to better understand and work with individuals with autism.
Now—in addition to waving the Indy's iconic checkered flag—his career and his passion is letting other people on the autism spectrum know, "Anything's possible."