Puppy Office Hours at the Cohen Clinic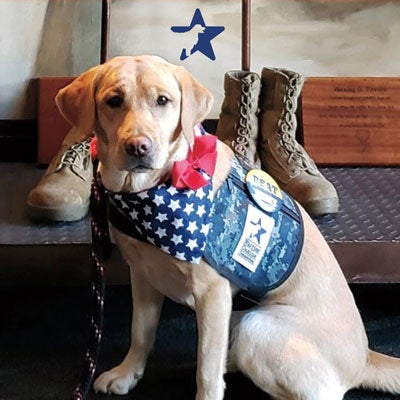 Join us for Puppy Office Hours at The Steven A. Cohen Military Family Clinic at Easterseals!
Warrior Canine Connection enlists Service Members and Veterans with combat stress in the critical mission of training service dogs for fellow Wounded Warriors. It takes a community of dedicated individuals to train, care for and love these dogs. Come relax with Florence, a service dog in training who was named for Navy Lieutenant Florence Choe.
All selected service dogs go through an initial training with a puppy parent that lasts about 18 months before moving onto more advanced training. It is estimated that by the time one WCC canine is finished with training, he or she would have helped up to 60 warriors throughout the process.
"This partnership is a win-win for both The Steven A. Cohen Military Family Clinic at Easterseals and the Warrior Canine Connection because it allows both organizations to help our wounded warriors find the best way to bring joy back into their lives. For the Cohen Clinic, helping veterans get better is more than just managing the mental health aspect of it. It is also about helping veterans find wellness, which is just as important," said Mallary Lass, USAF Ret., Outreach Manager with the Cohen Clinic.
Click HERE for more information about other upcoming events at the Cohen Clinic.