Easterseals Adult Day Services provide daily clinical care, supervision, activities, and curb-to-curb transportation for adults, seniors, and veterans in a safe, home-like environment. Our skilled medical professionals and staff have a personal commitment to every individual we serve. Adult Day Services provide a nurturing, cost-effective alternative to nursing home care, allowing clients to remain in their homes and communities.
Our philosophy is to first understand the specific needs of our clients and their families. We then focus on effectively managing those needs through a customized approach to care planning that honors and respects the voice of the client, and promotes dignity, inclusion, community, and wellness.
Our services also give respite for the caregivers of the clients we serve. We offer peace of mind that your loved one is safe and happy.
Our programs may be covered by Medicaid, the Department of Veterans Affairs, private pay, county subsidies, or long-term care insurance.
Locations
Silver Spring, MD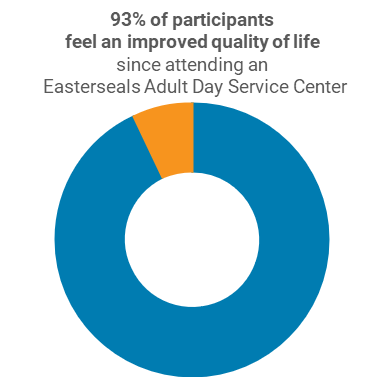 The Morris & Gwendolyn Cafritz Adult Day Services
1420 Spring Street
Silver Spring, MD 20910
(301) 588-8704 or (301) 920-9765
(301) 920-9770 fax
Baltimore, MD
The Edward N. & Della L. Thome Adult and Senior Care Center
7138 Windsor Boulevard
Baltimore, MD 21244
(410) 277-0940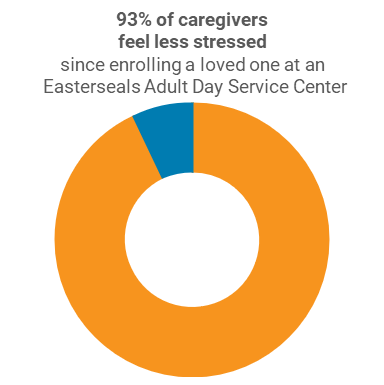 (410) 277-0943 fax
Hagerstown, MD
701 E. First Street
Hagerstown, MD 21740
(301) 745-3828
(301) 745-3829 fax
An Equal Opportunity Provider
Easterseals is an equal opportunity provider.
Limited English Proficiency (LEP): If English is not your primary language and you have difficulty communicating effectively in English, you may need an interpreter or document translation in order to have meaningful access to programs. Title VI of the Civil Rights Act of 1964 requires recipients of Federal financial assistance to take reasonable steps to make their programs, services, and activities accessible for eligible persons with limited English proficiency.