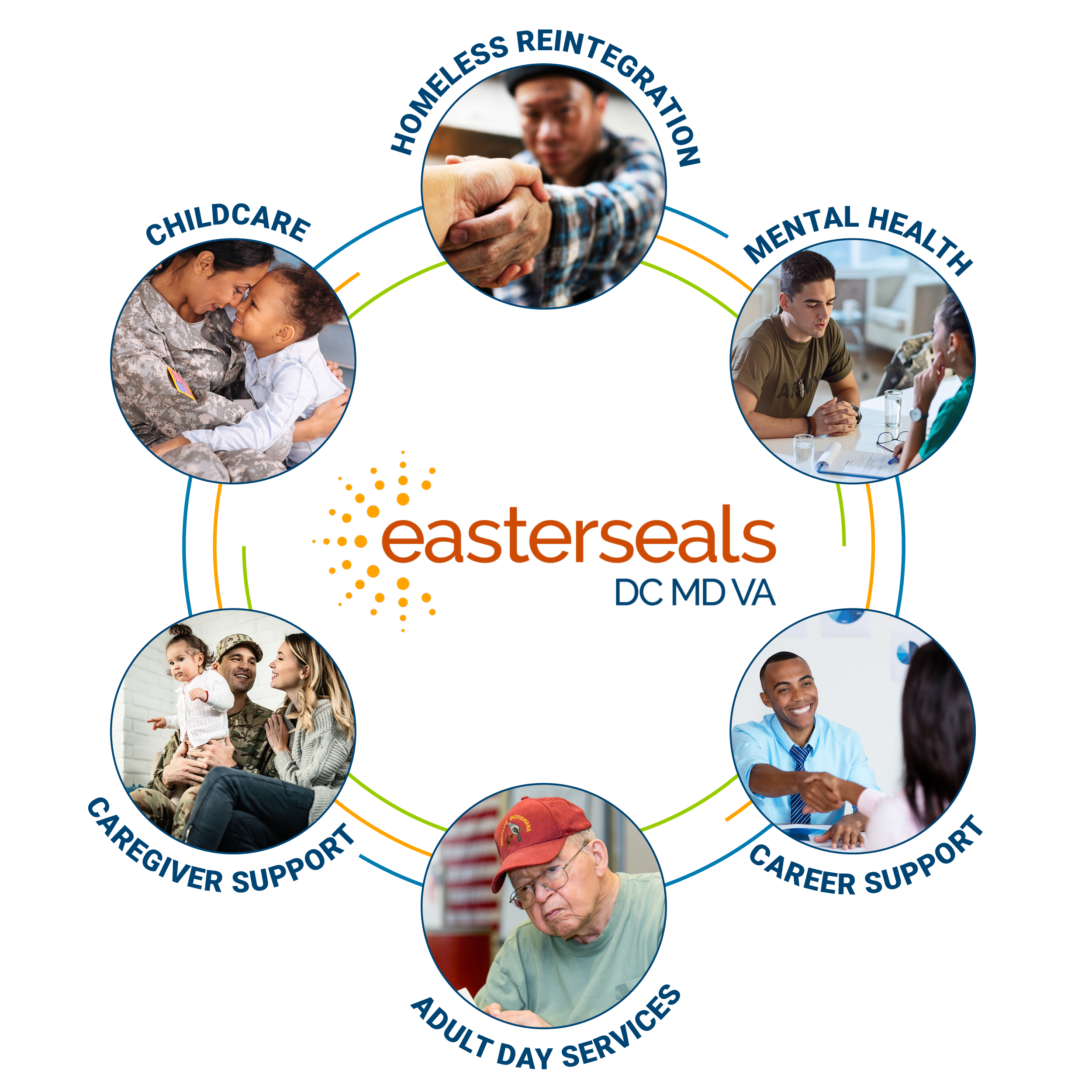 Since 1945, Easterseals DC MD VA has worked to enhance quality of life and expand access to mental healthcare, employment, education, and respite opportunities for people with military backgrounds and their families. Our holistic military and veteran services create a hopeful, inclusive community where all people realize their potential and live meaningful lives.
Steven A. Cohen Military Family Clinic at Easterseals
The Cohen Clinic provides high-quality, accessible outpatient mental healthcare to veterans and their families throughout the region. Our skilled clinicians and staff have been trained to work specifically with veterans, and some are veterans themselves. The clinic is located in the Easterseals Harry and Jeanette Weinberg Inter-Generational Center in Silver Spring, Maryland. We meet with clients in-person and by telehealth.
571 Cohen Clinic clients received mental health care last year
5,701 hours of therapy provided
Veteran Staffing Network
The Veteran Staffing Network (VSN) is dedicated to finding meaningful jobs for veterans, military spouses, wounded warriors, National Guard, Reservists, their families, and their caregivers. Our career coaches prepare job seekers for all levels of employment with resume building, interview practice, networking, and more. We educate employers interested in hiring veterans transitioning to the civilian workforce. An innovative business model allows us to reinvest revenue from placement fees to continue staffing services for more veterans.
Every veteran hired enables VSN to support five more veterans looking for work
Over 45% of VSN candidates get an interview and 50% of them get job offers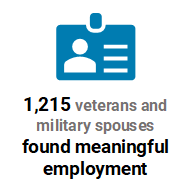 Homeless Veterans Reintegration Programs
We help homeless veterans and veterans at risk of homelessness prepare for long-term employment and receive support for complex transitional needs. The Homeless Veterans Reintegration Program (HVRP) serves homeless veterans and incarcerated veterans. The Homeless Female Veterans and Veterans with Families Program (HFVVWF) services homeless female veterans and their families. Services include job training, counseling, and placement services, as well as assistance with Veterans Administration benefits, health issues, housing, and transportation.
223 homeless veterans enrolled last year
Of those veterans, more than 50% achieved long-term employment and over 40% found stable housing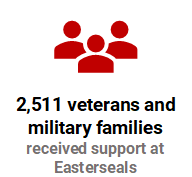 Military Family Respite Programs
We offer high-quality respite care for military, veterans, and wounded warrior families with children with and without disabilities. Parents and caregivers receive a much-needed break while their child receives individualized care. Respite care takes place at Easterseals centers one Saturday per month. In-home specialized respite care is available to active-duty Navy families who have a child with a disability.
9,130 total paid hours of in-home respite care for Navy EFM children
Little Warriors Child Development Program
Children of wounded warriors receive scholarships to attend Easterseals Child Development Centers. Our inclusive early care and education programs create nurturing environments where children of all abilities learn together in a shared classroom. We support children and their families as they focus on their service member's recovery.
$250,000 in total scholarships to attend Easterseals Child Development Centers provided last year
Adult Day Services
Our Adult Day Services provides cost-effective daily clinical services and engaging activities for adults, seniors, and veterans of all ages. Our centers are a safe, home-like environment with caring staff. Transportation is available to and from each of our three Maryland locations. We also partner with the U.S. Department of Veterans Affairs to provide veterans the opportunity to attend Easterseals Adult Day Services two days a week.
334,464

hours of Adult Day Services for adults, seniors, and veterans with disabilities