Easterseals Disability Film Challenge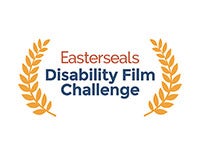 Originally launched in 2014 by actor, now also ESSC Board Member, Nic Novicki in response to seeing disabilities underrepresented both in front of and behind the camera, and joined by Easterseals last year, the film challenge is a weekend-long filmmaking contest, open to all, that provides a platform for new voices in the entertainment industry. Nic's role as creator of the Film Challenge recently resulted in his being honored with the prestigious SAG-AFTRA Harold Russell Award at the 2017 Media Access Awards.
The 2018 Easterseals Disability Film Challenge will be held the weekend of April 13-15, 2018, and the early registration begins on Friday, December 1, 2017.
For the 5th year of the Film Challenge, registered filmmakers – with and without disabilities – are given a span of 55 hours over the designated weekend to write and produce short films (three-to-five minutes) that Help Change the Way We View Disability, which are then judged in four award categories – Best Film, Best Filmmaker, Best Actor and Best Awareness Campaign – by a noted and diverse group of entertainment industry talent.
Winners – who will be announced at a red-carpet event May 10, hosted by United Talent Agency in Beverly Hills – are awarded industry mentorships; the opportunity to screen their film at the Los Angeles-based HollyShorts Film Festival (August 9-18), an Academy Award-qualifying competition; as well as cash awards and other desirable prizes.
Since the challenge launched in 2013, aspiring filmmakers from around the world have created more than 150 films, which have been viewed online and at film festivals around the world.
For more information, full rules & regulations or to register, visit: disabilityfilmchallenge.com and view last year's winning films below.
Easterseals Disability Film Challenge 2017 Best Film
Cory Reeder — Best Friend
Best Filmmaker
Jonathan Johnson — Sibings Liebencrantz
Best Actor
Jamie Brewer — Whitney's Wedding
Best Awareness Campaign
Cory Reeder — Best Friend
Thanks to challenge sponsor Dell, the winners were awarded a Dell mobile workstation and Dell 2-in-1 laptop computers. Winners also receive the opportunity to screen their film at the HollyShorts Film Festival and meet with mentors well-versed in the traditionally hard-to-crack entertainment industry: writer/producer Scott Silveri (Speechless, Friends, Joey, Grinder) ; actress/writer/producer Amy Brenneman (Heat, The Leftovers, Judging Amy, Private Practice); Actor/comedian/director/writer Randall Park (Fresh off the Boat, Veep); CBS Entertainment Executive Vice President, Entertainment Diversity, Inclusion & Communications, Tiffany Smith-Anoa'i and famed casting director Pam Dixon (City Slickers, The Green Lantern).
Check out all of the 2017 film entries on YouTube or Facebook!