Verbal Behavior Lab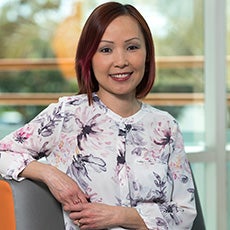 Joyce Tu, Ed.D., BCBA-D

Biography
Dr. Joyce C. Tu received a Doctor of Education in Educational Psychology specializing in Applied Behavior Analysis from West Virginia University. Dr. Tu has over 20 years of experience providing trainings, workshops, and supervisions for professionals and parents working with individuals diagnosed with autism and other developmental disabilities. Her specialization and research interests are in the area of verbal behavior, specifically, joint control and it's role in listener's behavior. Dr. Tu has presented a number of times to both national and international professional organizations. She had also consulted in schools for children with autism in China and Bahrain. She was an adjunct professor at California State University, Los Angeles, Ball State University, Florida Institute of Technology, and the Chicago School of Professional Psychology. She is the founder and director for Center for Behavioral Sciences, Inc. and ABA Unlimited, Inc. She had served as Association program coordinator for the International Society for Behaviorology Conferences. Furthermore, she had also served as President at California Association for Behavior Analysis Board of Directors, and the advisory board of director for the Association of Professional Behavior Analysts. Currently, she is the Vice President of Clinical Transformation for Easterseals of Southern California, and the vice president of the B. F. Skinner Foundation.
Research Interests
The primary focus of my research is in verbal behavior. I am interested in the origin of listener's behavior, as well as, identifying and verifying the multiple sources of control of verbal behavior. My studies consisted both applied and basic human research. I am working on three projects at this time. Below are descriptions of these projects:
The Role of Joint Control in Listener Responses and Generative Responding

In manded selection responses, a speaker mands, "Give me a cup," while the listener scans through an array of items, picks up the cup and gives it to the speaker. In this scenario, the listener's behavior is under the multiple control of the instruction and the cup. Joint control provides a behavioral explanation that the listener first engages in self-echoic "cup" while scanning the items. When she sees the cup, and vocally emits the word "cup," two verbal operants then merged, self-echoic and tact. In this example, self-echoic, "cup" and tact "cup" jointly controlled the selection response. Many research studies in the past had shown that two or more verbal operants are necessary for selection responses to occur. The goal of current project is to evaluate if joint control is a teaching method to generate novel, untrained, unreinforced responses.
Back to basic: using "Go and no-go" to teach simple discrimination to learners with autism
This current study investigated the conditions necessary for stimulus to acquire control of skill acquisition. We had two learners diagnosed with autism, ages 7 and 9, both with long history of little to zero rate of skill acquisition in their ABA programs. Skinner's (1938) successive method, "Go and no-go" stimulus control training was used to teach pre-mand training with the Picture Exchange Communication System (PECS). The successive method was then followed by "Go-right/go-left successive procedure" developed by Harrison (1984), and then Go-right/go-left with simultaneous stimulus presentation (Harlow, 1950). The results show that participants acquired initial discrimination of PECS icons in approximately 88 sessions and maintained the skills 3 months after the introduction of first discrimination method. The next focus of this line of research is to include the successive method and "go left/go right" method to teach other skills involved simple and conditional discrimination.
Teaching Identification of Complex Emotions to Individuals with Autism

In this study, we use video modeling to teach complex emotions across seven children diagnosed with autism. Each participant was shown five short video clips and identified characteristics such as, body language, facial expression, voice, and volume of verbal behavior. Our initial results suggest the use of video modeling while teach to identify multiple characteristics can quickly promote skill acquisition in identifying complex emotions across all participants. The next phase of the study will be to introduce multiple exemplars (of complex emotions) using the same teaching methods. The participants will learn to identify these complex emotions on others and on themselves, finally, what are some possible ways to respond to these emotions.
Publications
Tu, Joyce C. (2006). The Role of Joint Control In The Manded Selection Responses Of Both Vocal And Non-Vocal Children With Autism. The Analysis of Verbal Behavior, 22, 191-207.
Tu, Joyce C. (2016). The Role of Joint Control in Selection Responses. European Journal of Behavior Analysis, 17, 41-48.
Haq, S., Alresheed, F., & Tu, J. (2020), Behavioral Treatment of Problem Behavior for an Adult with Autism Spectrum Disorder and Misophonia. Journal of Developmental and Physical Disabilities. https://doi.org/10.1007/s10882-020-09780-8
Background • Human Subjects Institutional Review Board • Recent Publications • Team Members • Laboratories • Continuing Education Units • Contact Us