How Adult Day Services West Covina Uses Art Therapy For Participants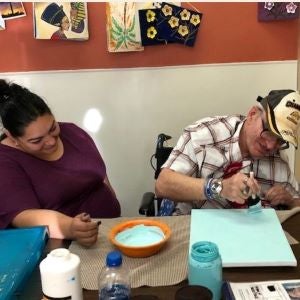 For Harold, creating art is therapeutic. As a participant at ADS West Covina, he often finds himself in the arts and crafts room, surrounded by watercolors and crayons.

"I like art. It relaxes me. I learned from them," Harold said referring to the Life Skills Coaches in the room.

Those coaches have helped brighten up the location by drawing on their own artistic abilities to help participants find their talents.

They have drawing, painting and watercolors as options and the participants pick whatever they want.

Life Skills Coaches help participants create cards like birthday cards and holiday cards for staff, and they are also donated to the local church and daycare.

They use a tool called a 'Cricket' to help the participants design the cards and create bookmarks. Those items often get donated to places like The Homework House, an afterschool program for kids.

Vivian Rodriguez, the program director for ADS West Covina said it's amazing to watch the participants' passion and their excitement to share their work.

"We often see the same faces in the arts and crafts room and volunteer room," Rodriguez said. "They find they're passionate and stick with it. They see their work makes a difference and influences the world."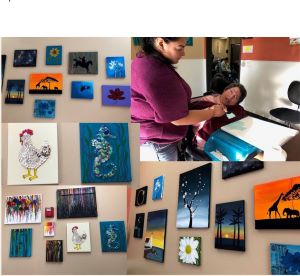 "I enjoy the art and colors," Janet, a participant, said.

Janet is just one of over a dozen participants who often choose art as their daily activity. Participants can choose the size of their canvas, the colors and whether they want to paint or do something unique like crayon or button art.

It's work that is displayed all over the walls at ADS West Covina and around the community.
Learn more about Adult Day Services.