Missouri Tax Credits
Easterseals Midwest is thrilled to be able to offer Neighborhood Assistance Program (NAP) tax credits to Missouri state taxpayers. The Neighborhood Assistance Program allows Missouri taxpayers to determine which charitable organizations benefit from state tax dollars. Tax credits are worth 50% of your gift, in addition to standard state and federal deductions. The higher the income tax bracket, the lower the final cost of the gift to you, our donor.
Who Qualifies?

NAP credits are available to anyone who pays taxes on business income, including:
Corporations
S-Corporations
Individuals operating a farm in Missouri
Individuals operating a sole proprietorship
Individuals with rental property in Missouri
LLCs
Partnerships
Express companies
Financial institutions
Insurance companies
Benefits
Tax credits are available for gifts of $1,000 or more. As a donor at this level, you will also become a member of the Easterseals Midwest Presidential Circle. President's Circle Membership comes with a number of special benefits, including monthly email updates from our CEO Wendy Sullivan, an invitation to the President's Circle Annual Reception, and more.
Below is an example of how the NAP tax credit program impacts the final cost of your gift to Easterseals Midwest: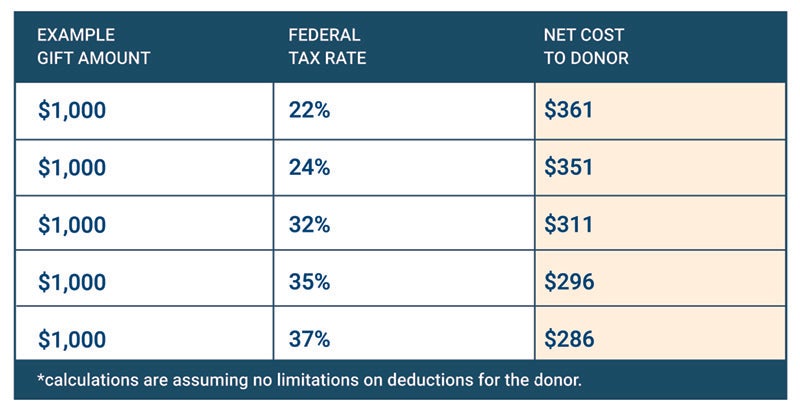 The example provided is for illustrative purposes only. It does not constitute tax advice. You should consult your tax advisor prior to making a contribution to confirm the after-tax cost of your donation and learn more about how these credits can help you achieve your desired outcome.
How to get Missouri State Tax Credits

Make your gift of cash, stocks, or bonds to Easterseals Midwest and request a tax credit application form.
Complete and notarize the tax credit application form, then return by mail with the required documentation to Easterseals Midwest: Attn: Development, Easterseals Midwest, 11933 Westline Industrial Dr., St. Louis, MO 63146
Save the tax credit verification form from the state of Missouri for your tax filing.
After receiving your completed form, Easterseals Midwest will submit your application to the Missouri Department of Economic Development.
After four to six weeks, you will receive a tax credit certificate directly from the state of Missouri, along with instructions on how to redeem your tax credits. Note that tax credits may be carried forward for up to five tax years.
Tax credits are available in limited quantities and are sure to go fast! To learn more, please contact Patti Dickens, Director of Development, Corporate Engagement, at 314-394-7071 or patti.dickens@esmw.org.