I am Easterseals, I am Essential
During these uncertain times, we want to share with you uplifting stories from our staff, families, and individuals that we support. Visit us on Facebook and Instagram for shareable versions of these stories.
Our Kirkwood team and individuals took a bit of time out of their days to remind us what they're thankful for!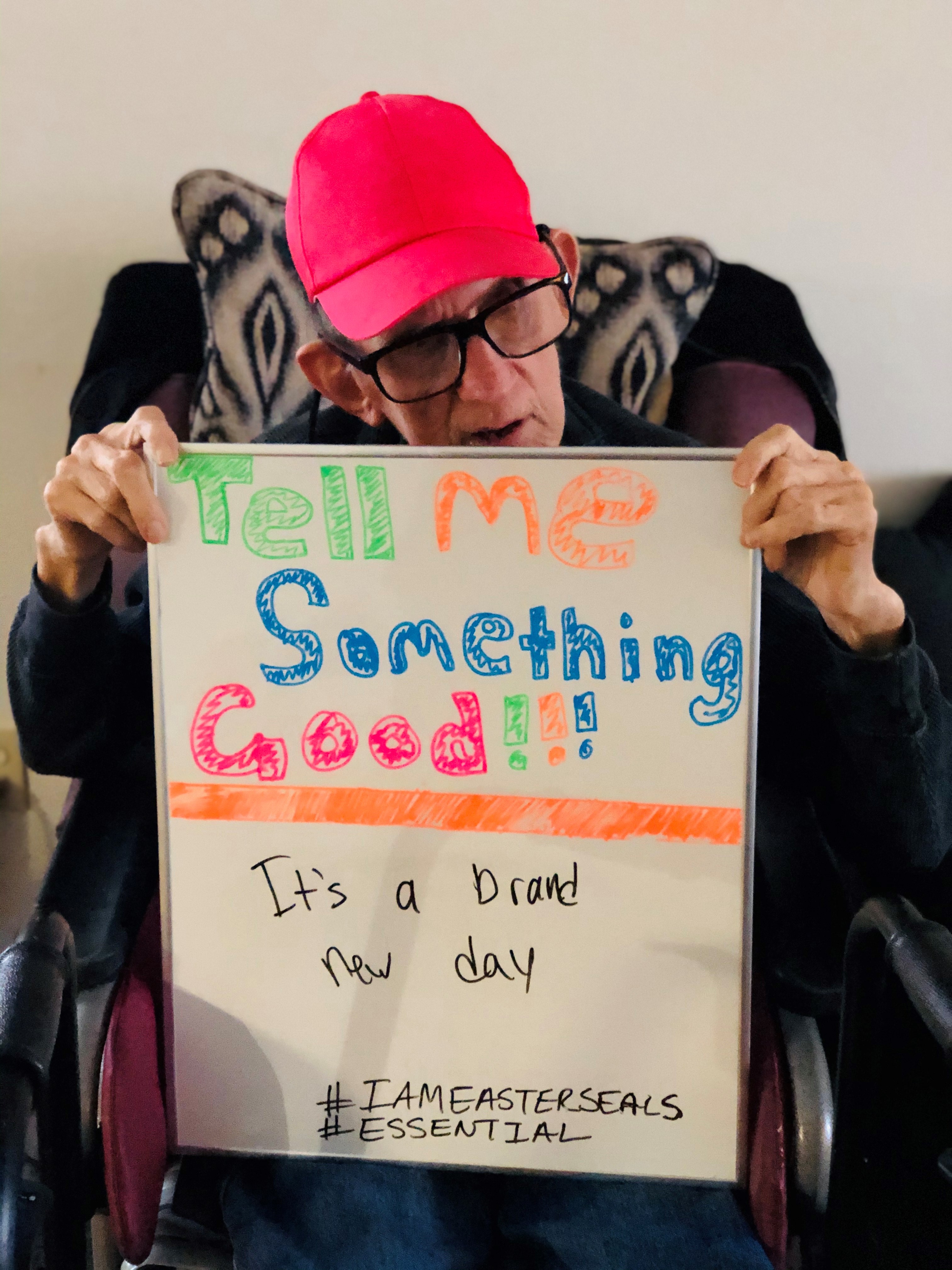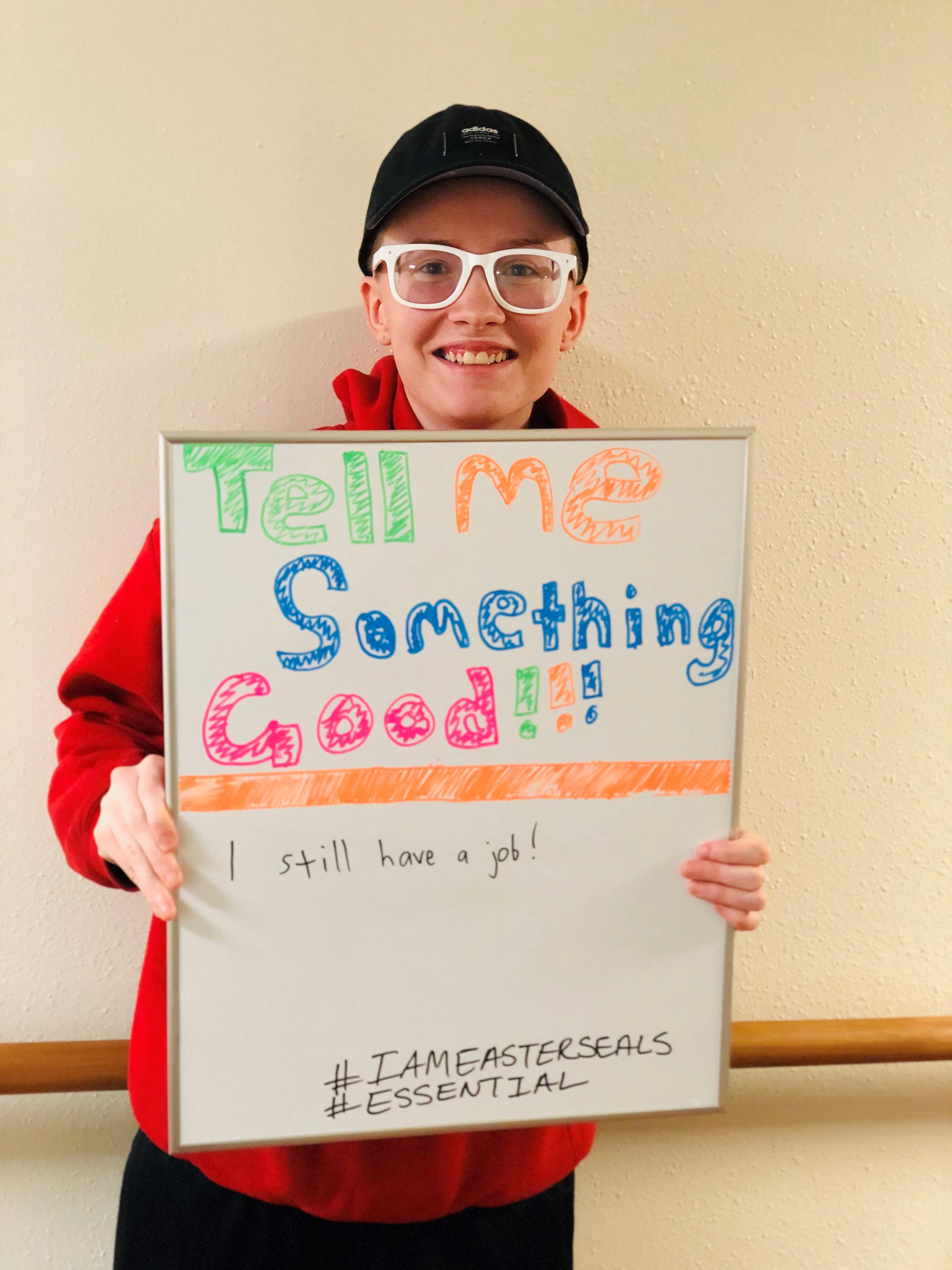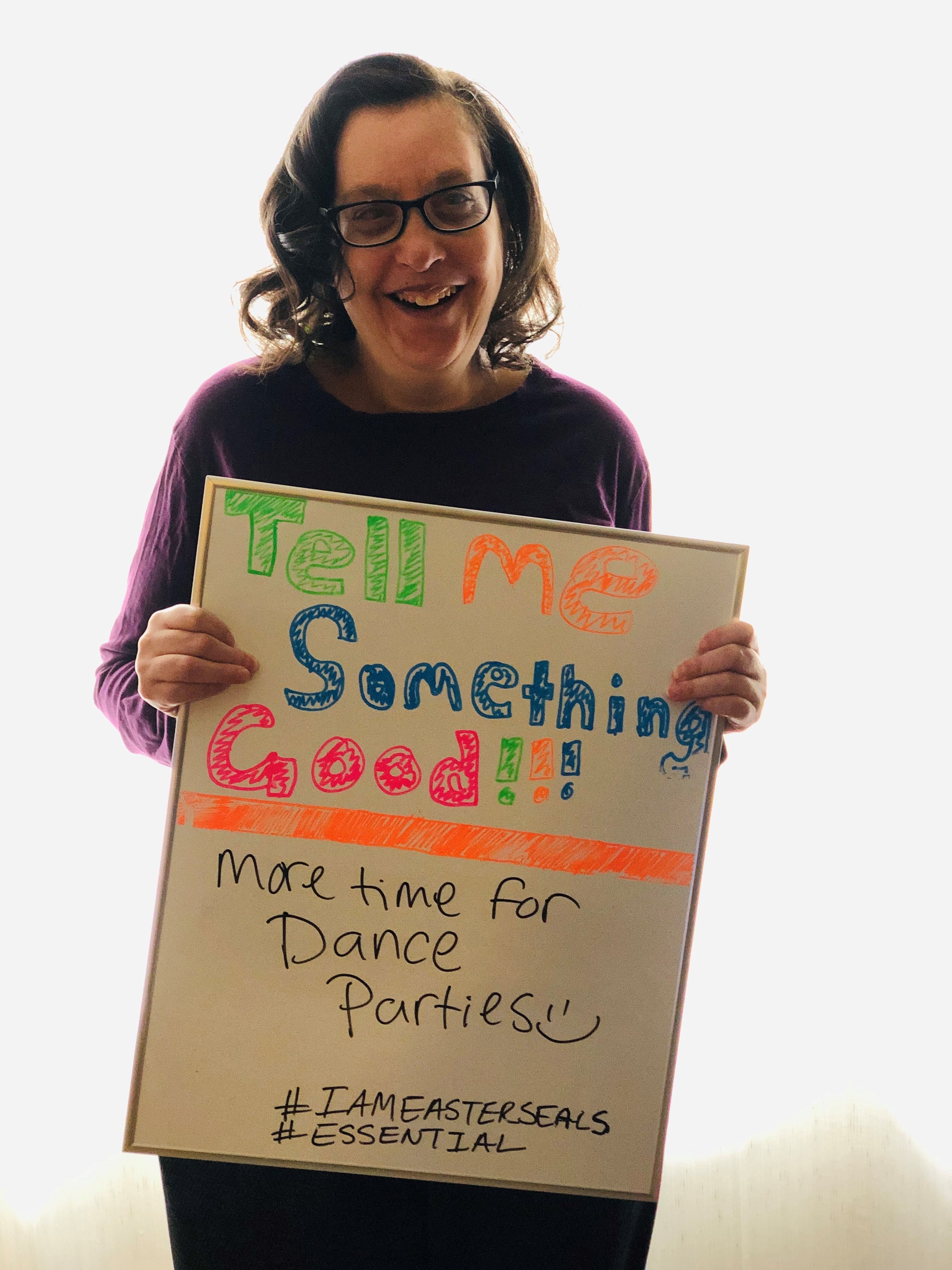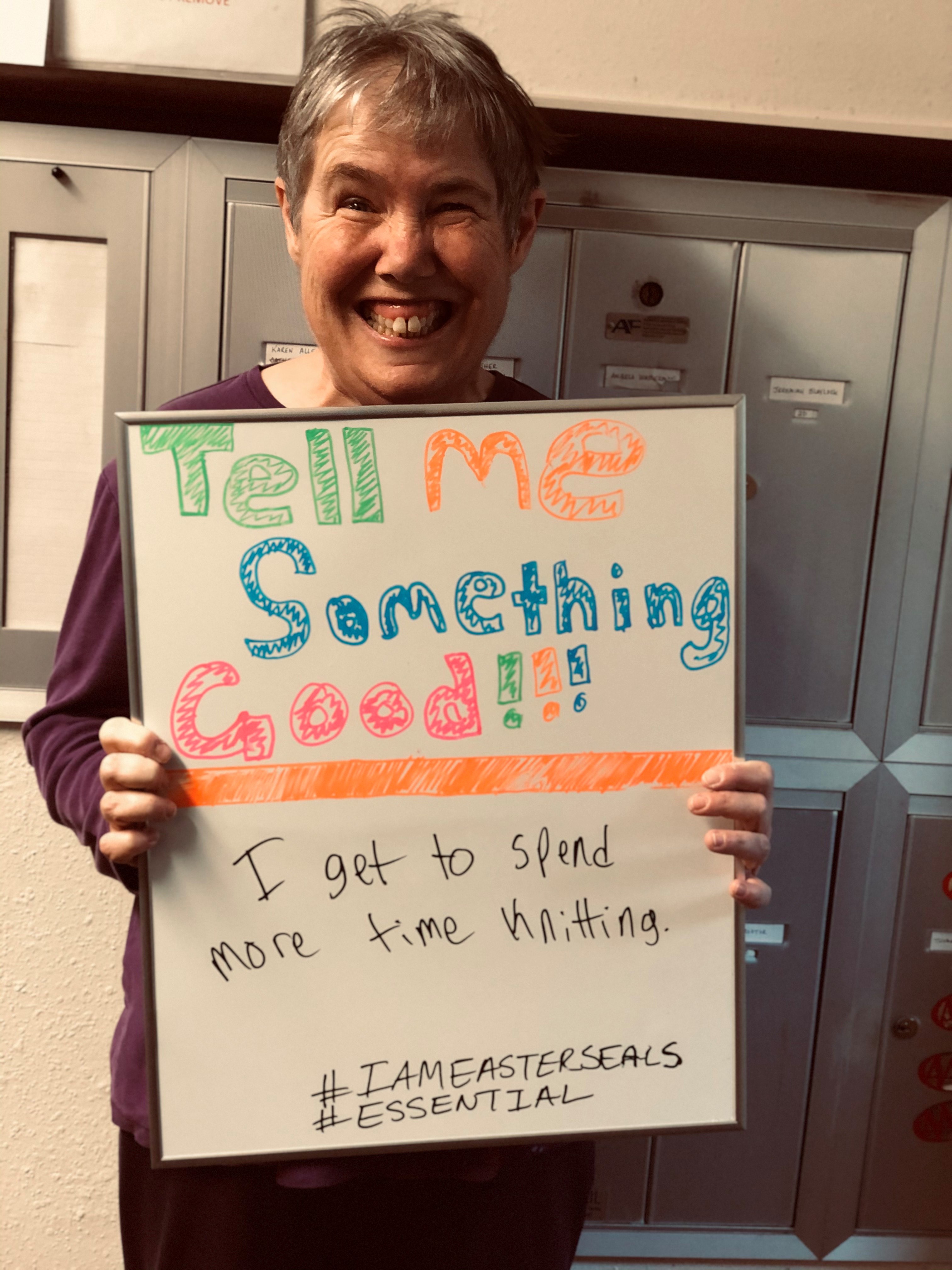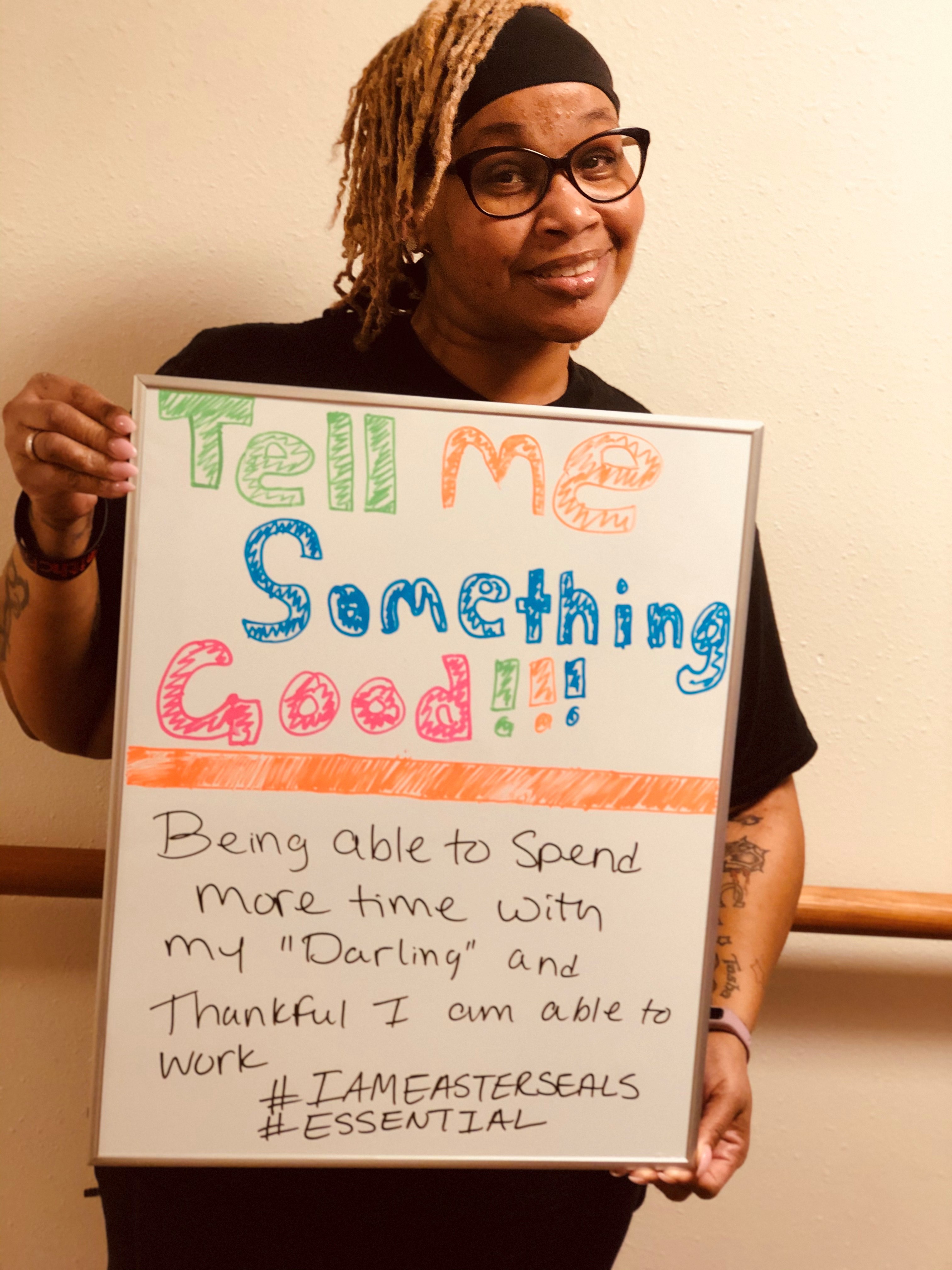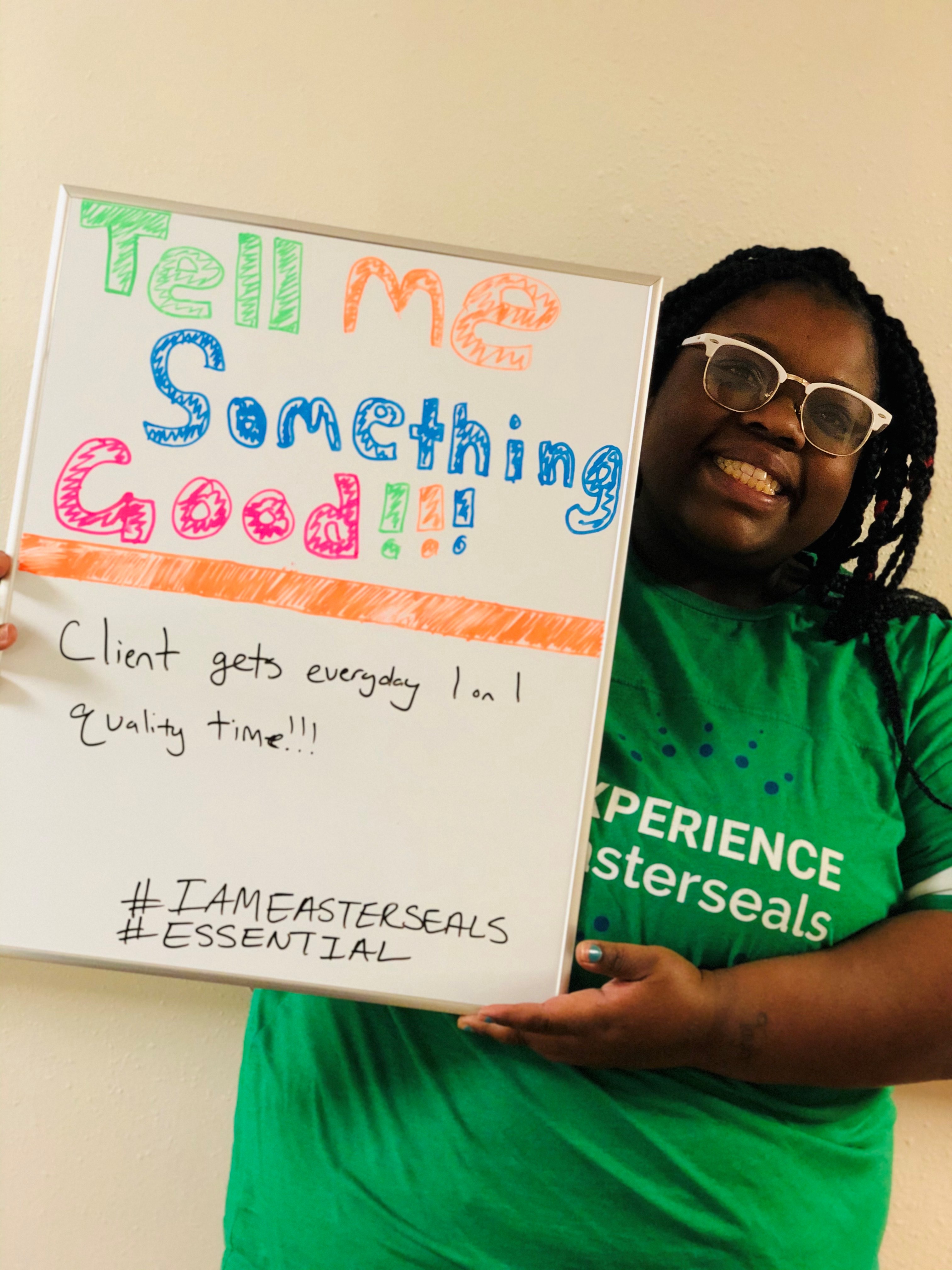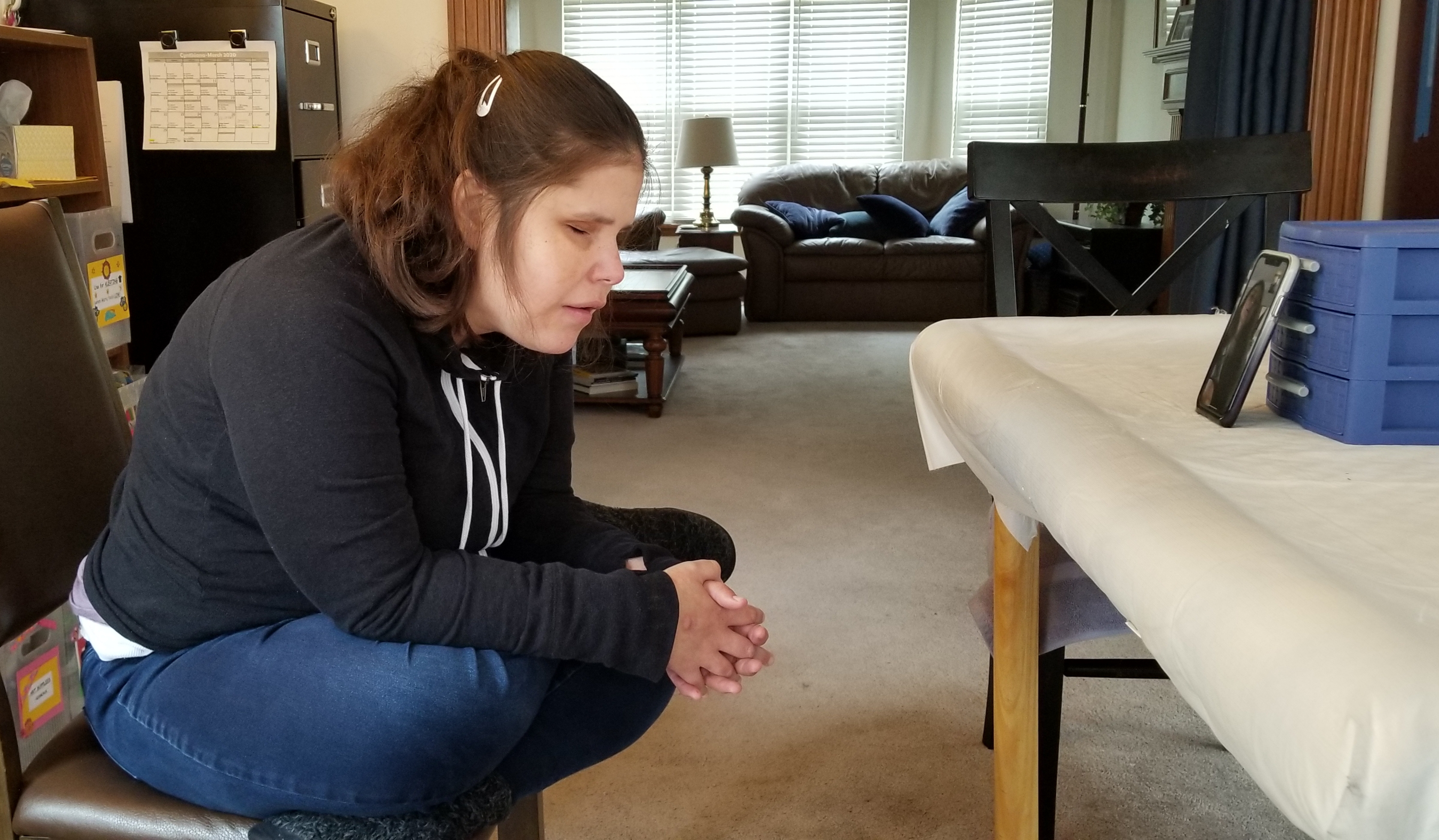 We're moving therapy sessions online!
Our staff is going above and beyond to keep schedules and routines as regular as possible for those we support. This is Maria jamming with her Music Therapist via Facetime! While Maria's disability kees her from seeing her music and speech therapists via Facetime, the sessions are letting our staff see and interact with Maria without having to go into the home, keeping everyone safer. And they've been a huge hit!
We're keeping our groups together
Last Friday, our TGIF group was able to have their first virtual hangout! Because of the large number of people interested, we held three groups in 45-minute sessions.
During our hangouts everyone got a chance to talk with each other and hear how everyone has been spending their time at home during this crazy time; did some fun quizzes, and played a few games online!
While there was some apprehension, everyone warmed up by the end of the meetings and really enjoyed it. TGIF groups will continue throughout April. Pictured is Tori, who participated in one of the hangouts!
We're all coming together in new ways
"In spite of all the difficulties we are facing with the current situation, we are still changing lives for those we support! I have been so excited to see how many of you are taking our situation and making so many wonderful things happen! This week, I was able to sit in on three groups - Circle Time with Ms. Alyssa, Get Moving with Kaitlyn, and Storytime with Ms. Allison and Ms. Iris all via Zoom. You all -- this is just amazing! No circumstances are going to hold us back from seeing our individuals and bringing opportunities to them. We are Easterseals!"
- Jessica Harrison, Autism Services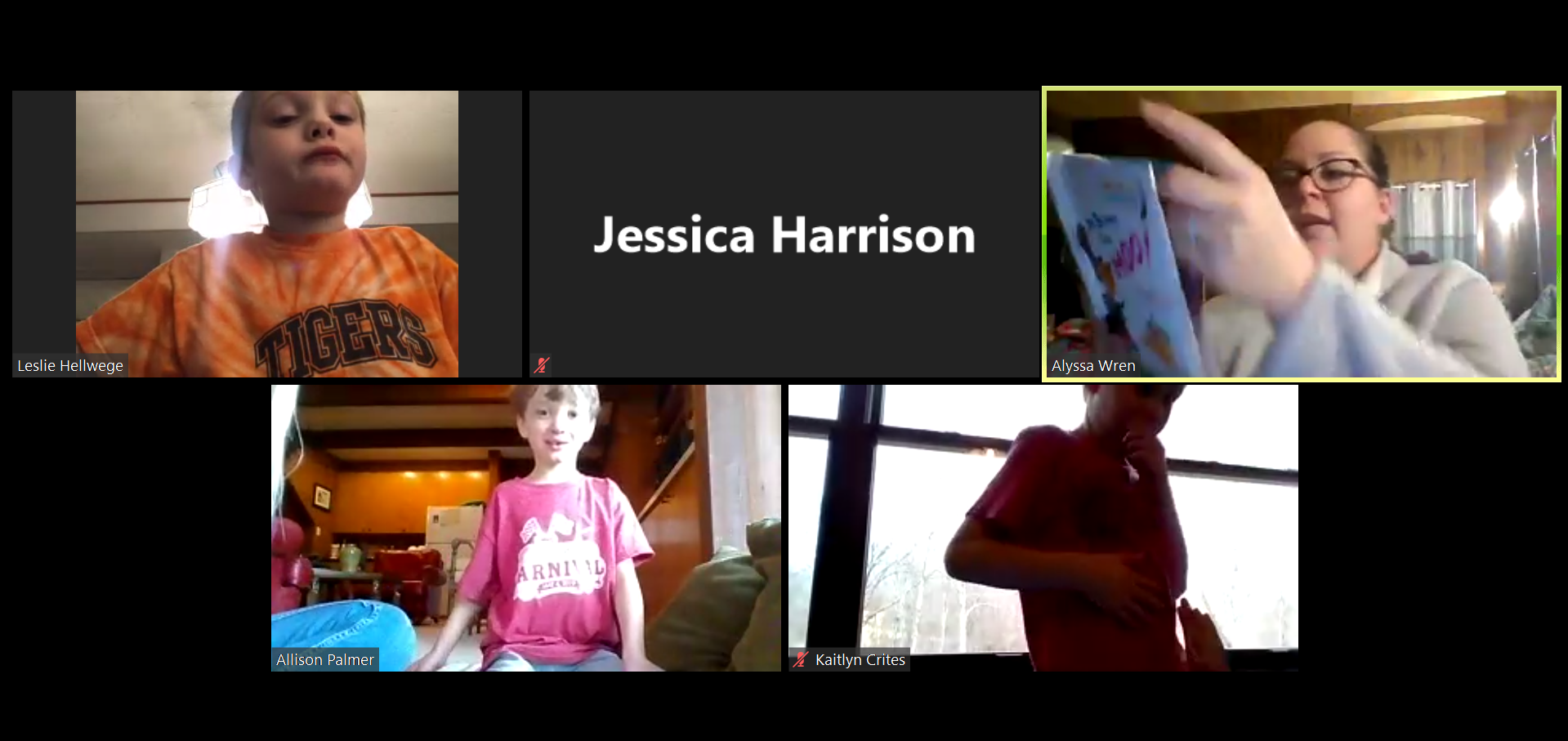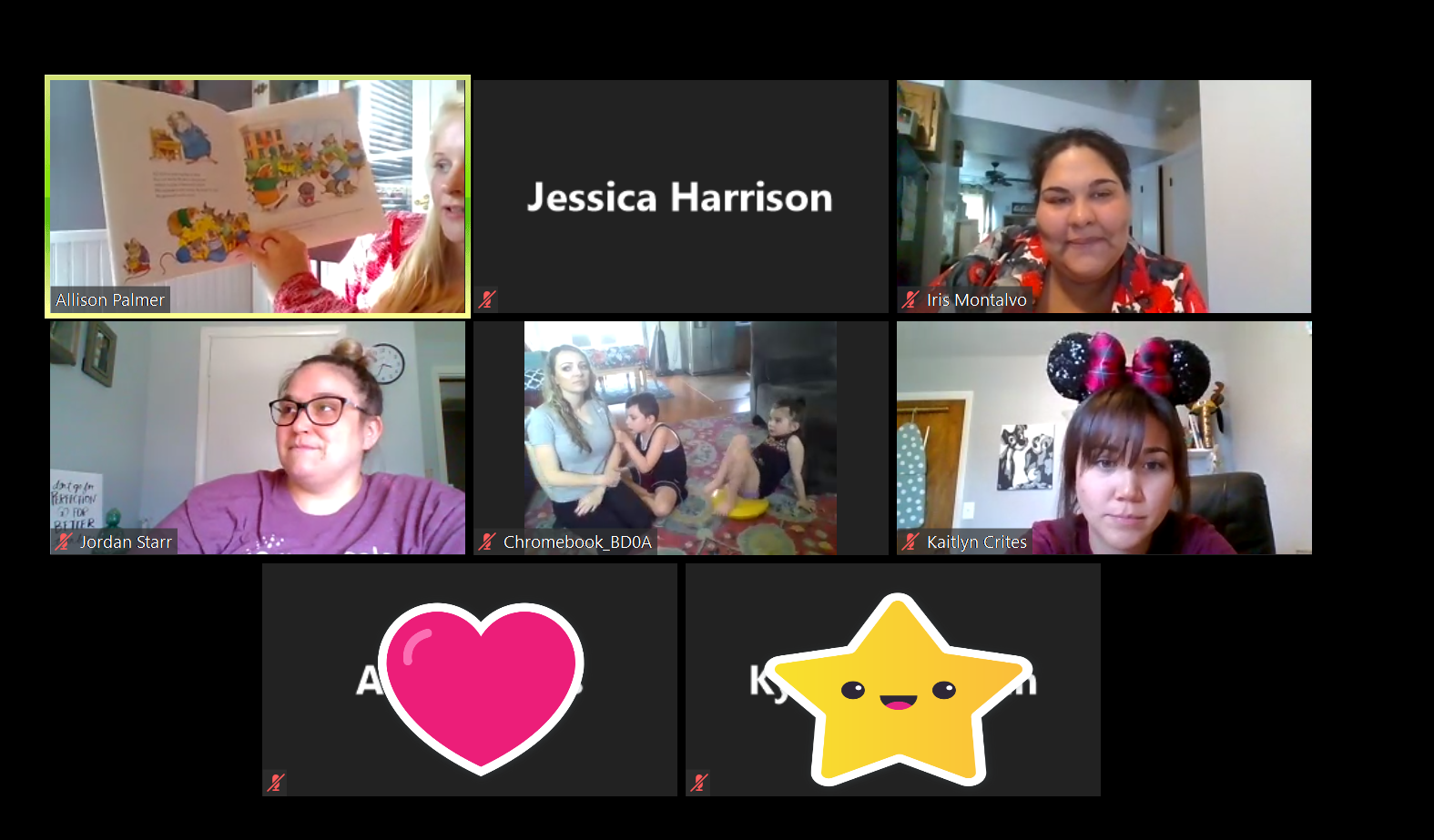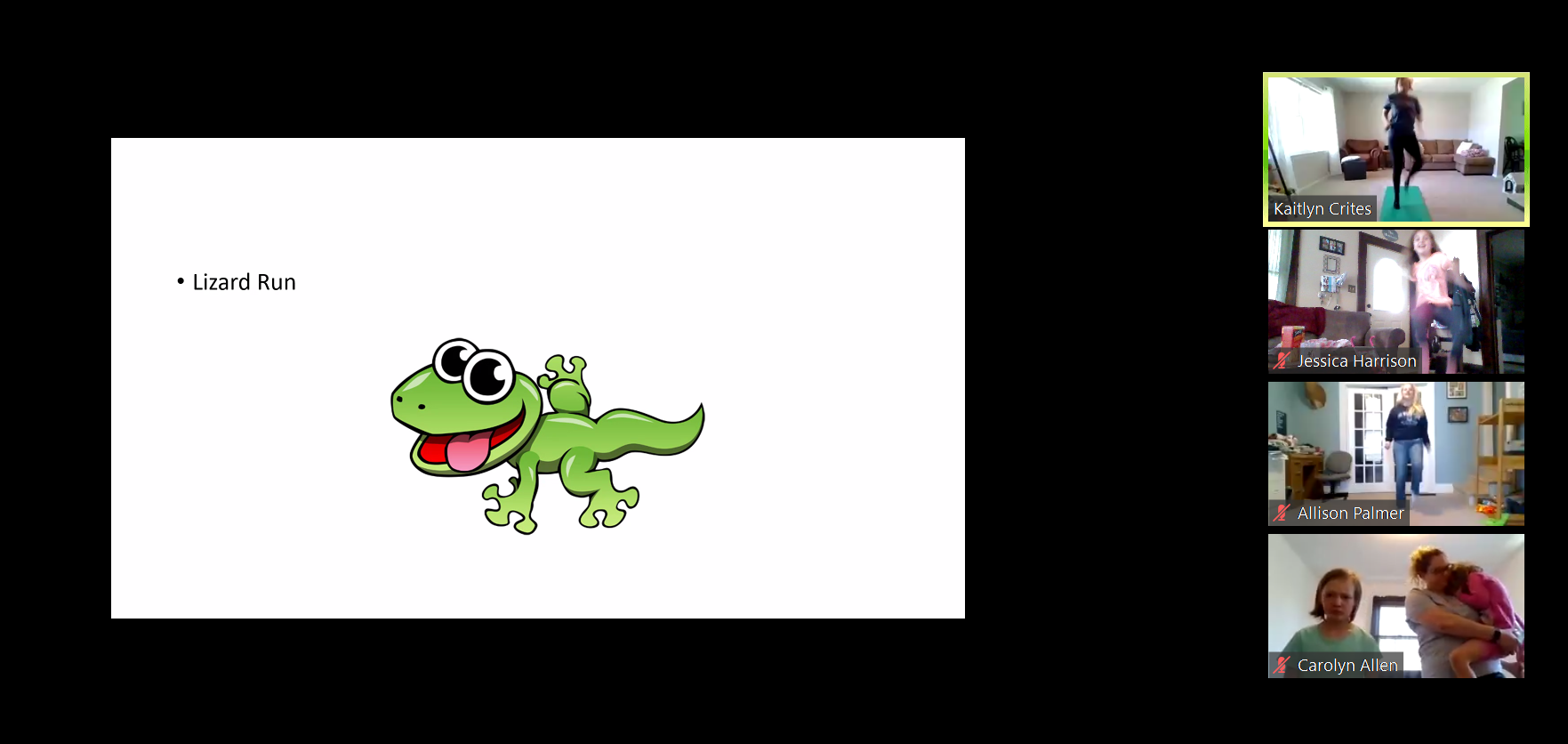 Our Employment Job Coaches are Essential!
Employment job coaches are essential! Many of our job coaches are still working and working in the essential areas of the community (hospitals, nursing homes, janitors, cleaning companies, grocery stores, and pharmacies). Our job coaches are entering more than one of these essential businesses a day to support our individuals and help them manage anxiety, frustration, extra work, faster paces, and greater senses of urgency and safety.
The number one item our job coaches requested were safety supplies to ensure themselves and their families remained safe and protected. The employment team worked together going from grocery store to pharmacy purchasing items our job coaches needed. The team banded together made a supply bag for each coach and recruiter on the front line. Each supply bag contained gloves for the week, so they could change gloves between each visit; baby wipes to wipe hands and car; tissues; hand sanitizer; and snacks for on the run.
The coaches also requested face masks, however, there were nowhere to be found. Director Lynn Winterberg sent out an email to the entire employment team asking if anyone had sewing machines and was able to sew. She had found a video on how to make masks with material, felt, and elastic with a pattern included. Within minutes of the email, staff had replied stating how many didn't have a sewing machine, but they were willing to learn to sew by hand if that would help. Others offered to ask friends who they knew could sew. Jen Kerner (who is an actress in her spare time and our amazing administrative assistant) indicated someone from her theater group was already making masks and would ask if she had time to make our coaches masks, as well. The rest is history!
What a blessing to have a member of the community offer their support and time to help our job coaches get the much-needed supplies they were needing!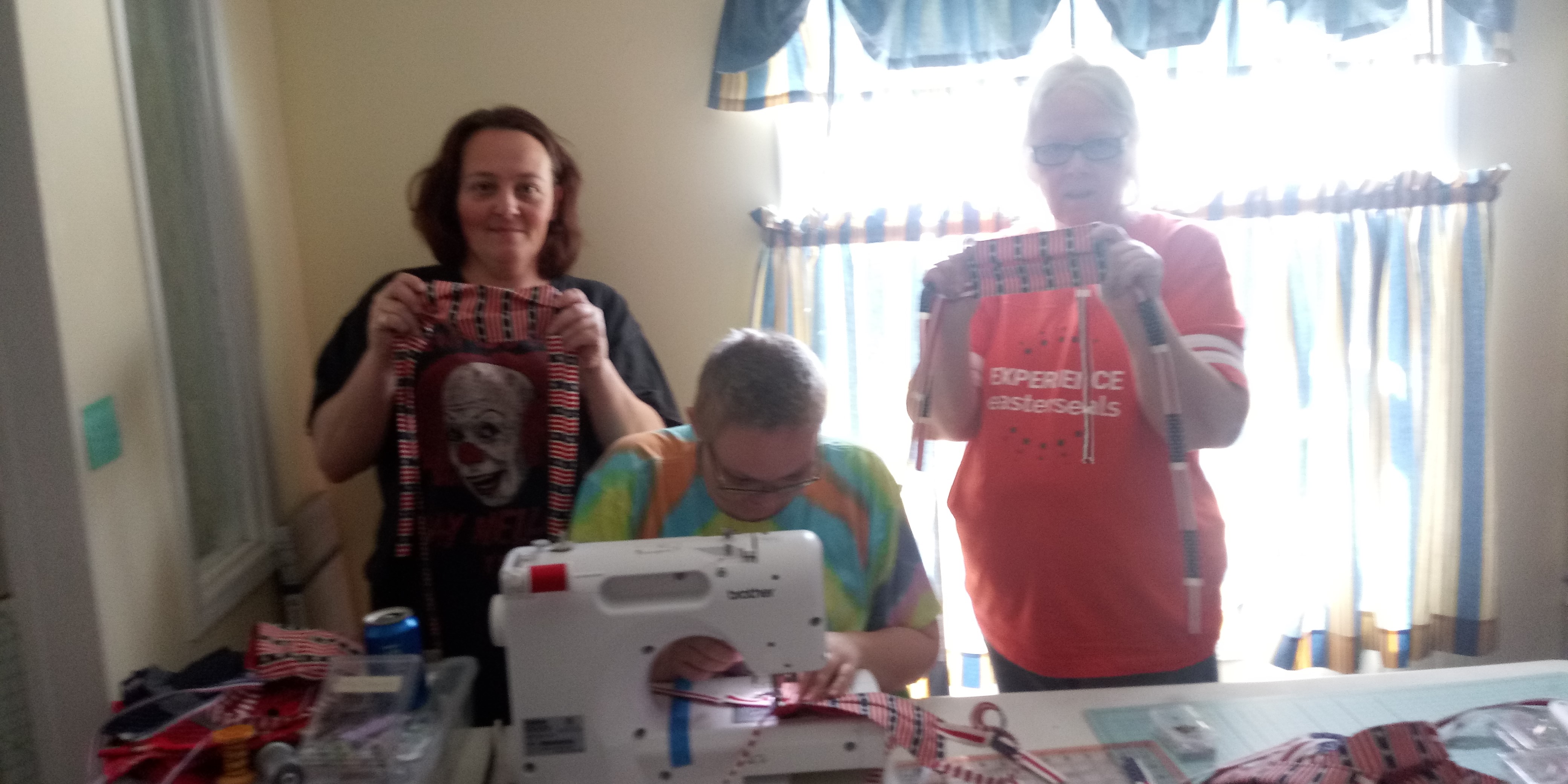 We're helping each other out
So many of our employees have come together to help out different departments. Here, our employee Brenda and her daughters are helping make cotton masks to cover the n95 masks of employees who are out working on the front lines. The cotton masks help with the longevity of the safety of the normal n95 masks. Thank you, Brenda!
"I really enjoyed supporting a family yesterday through Telehealth and at the end had a storytime with the kiddo via Whatsapp! He is working on identifying body parts, so I read the book 'From Head to Toe,' by Eric Carle. The kiddo was doing the actions for each animal!"
- Anna Duke, ABA Implementer, Autism Services
"On March 25, 2020, staff called to check on two individuals to see if they needed anything, being we are all trying to stay close to home because of the COVID-19 virus. One of the individuals stated that they had fixed some hamburger patties on the stovetop and remembered just what to do. He explained that they washed their hands with warm soapy water before handling the hamburger. Next, he stated that he placed the hamburgers in a skillet. He also stated that he turned the stove off after the hamburgers out of the skillet. Our staff praised the individuals for doing such a good job and for paying attention in the past so they knew just what to do to prepare the dinner! Our staff is so proud of these two individuals for having the confidence to do it on their own. It showed me that they both paid close attention to what to do. I can't express how proud I am of these two individuals. I love them to pieces. The individuals were so proud of themselves, as well."
- Lisa Frosch, Autism Services