JOHN TRAVOLTA, THE HONORABLE ELIZABETH DOLE, AND ROSALYNN CARTER CELEBRATED WITH EASTER SEALS AT THE ANNUAL ADVOCACY AWARDS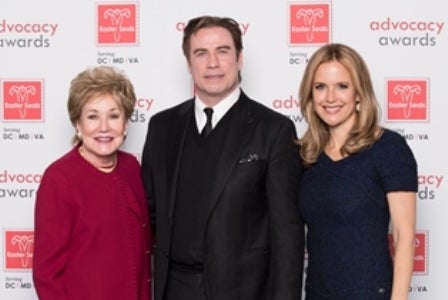 Pictured (Left to Right): The Honorable Elizabeth Dole, Former United States Senator (NC), Founder, Caring for Military Families: The Elizabeth Dole Foundation, John Travolta, Actor, Golden Globe Winner, Academy Award Nominee, Ambassador of Commercial Aviation and Kelly Preston, Actor, Philanthropist.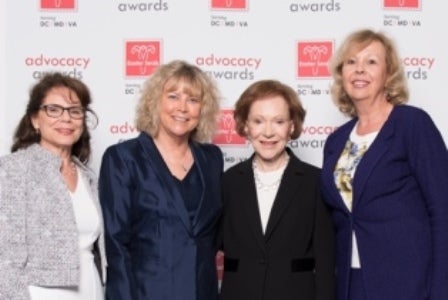 Pictured (Left to Right): Lisa Reeves, President and CEO Easter Seals Serving DC|MD|VA, Robin Portman, Executive Vice President, Booz Allen Hamilton, Board of Directors, Easter Seals Serving DC | MD | VA, Rosalynn Carter, Former First Lady of the United States, Board President Rosalynn Carter Institute for Caregiving and Amy Caro, 2016 Advocacy Awards Chair, Vice President, Northrop Grumman.
On April 19th, Easter Seals Serving DC | MD | VA celebrated Creating a Greater Community and presented Advocacy Awards to Northrop Grumman Corporation, Major General Carl McNair, Jr. (Ret.), General Mark A. Welsh III and Betty Welsh at its annual Advocacy Awards Dinner at the Walter E. Washington Convention Center in Washington, DC. The event generated over $800,000 to support critical Easter Seals programs throughout the region. Easter Seals provides exceptional services to ensure that all people with disabilities or special needs, and their families, have equal opportunities to live, learn, work and play in their communities.
The evening event highlighted "Creating a Greater Community," recognizing individuals whose lives have been transformed by Easter Seals, and the corporations, foundations and individuals who have made a difference for people with disabilities and their families. "The Dole Foundation continues to partner with Easter Seals on education, training, respite care, and employment programs. Working together, we have been able to extend Easter Seals' outstanding training programs to thousands of military caregivers who would not otherwise qualify for training through the VA," said The Honorable Elizabeth Dole, who presented an Advocacy Award to Northrop Grumman.
Rosalynn Carter, former First Lady of the United States, presented an Advocacy Award to Major General Carl H. McNair, Jr. (Ret.) and said, "He has exhibited a lifelong passion for children in the community, leading to many years of service to Easter Seals as a donor, volunteer, Board member, and now Emeritus Board Member. Leader in the military… leader in industry… leader in advocacy for children and caregivers… he inspires us to create a greater community that serves and embraces all."
Academy Award nominee and Ambassador for Aviation, John Travolta, presented awards to General Mark A. Welsh III and Mrs. Betty Welsh. "As someone who has experienced profound life challenges, I completely understand the power of a supportive community. I don't think I could have been here without it, Easter Seals is providing that very support," said Travolta.
Since 2004, military, government and business leaders have been honored for their exemplary commitment to advancing opportunities for children and adults with disabilities or special needs, including wounded warriors, military, veterans and their families, at the Advocacy Awards.
For additional information about our Advocacy Awards, please click HERE.