Our Cause
At Easterseals, we believe that our community is stronger when we build on the abilities of all of our neighbors. That's why we work in local communities as champions for ability. We pave the way with programs and services that unlock the potential of each person we serve, regardless of the challenge they may face. Working in partnership, we offer guidance, provide support and inspire action so that everyone can reach for and realize their potential.
Receive more specific information from our website:
For more information, contact us.
In the spotlight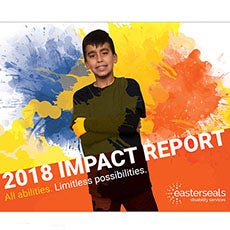 We are proud to share the many ways that Easterseals Southern California impacted the lives of people of all ages in 2018. We champion all of life's moments. That's why for the last 100 years we've provided people with the life-changing disability services they need so that they can fully live, learn, work and play in their communities.