Camping & Recreation
Easterseals is a week-long fully accessible camp in Big Bear serving children and adults. An accredited American Camping Association site, Camp Easterseals offers people with disabilities the same excitement and activities available at other camps.
For more than 40 years, campers and volunteers from all walks of life have come together for one magical week of camp. Activities include crafts, hayrides, talent shows, dances, swimming, canoeing, archery, hiking, concerts, storytelling, and a high and low ropes course.
The camp elevation is 7,300 feet
The camp is co-ed and campers must have some communication skills
The counselor to camper ratio is approximately 1:2.
Campers stay in dormitories or 3-sided cabins
Restrooms and showers are available
A registered nurse is on 24-hour duty
Camp Dates
August 2-8, 2020
A Message About COVID-19

We are monitoring the CDC's daily updates regarding COVID-19, but still plan for Easterseals Camp to take place this August. To ensure everyone has a healthy and safe experience, all campers and volunteers will be screened by camp nurses upon arrival at camp. If camp does need to be cancelled, we will refund all camp fees and transportation payments.
Please feel free to reach out to Camp Director Amanda Showalter if you have any additional questions, and be sure to check back here for future updates.
Applications
New and Returning Staff Applications: Available May 1, 2020
New Camper Application: Available June 1, 2020
Donate Online to Support Camp!
Camp Easterseals relies on donations to ensure that anyone who wishes to experience the joys and challenges of camp in a fully-accessible setting can attend. Donate today and support our annual Camp Easterseals.
Chose from one of three gift designations:
1. Camp: Donate towards Camp Easterseals' expenses.
2. Camper Payment: Donate to support a specific camper. Enter their name in the "Honoree" section of the donation form.
3. Special Camp Fund: Donate to the camp volunteer leadership fundraising campaign which supports camperships, and projects designed to make camp more accessible for all.

To Donate by Check or Money Order:
Please make your check payable to "Easterseals"
Mail to:

Easterseals Southern California
Attn: Special Camp Fund
401 S. Ivy Street
Escondido, CA 92025
The Camp Experience
Watch this video to learn more about Easterseals Camp.
You can also view this video at this link: https://youtu.be/KDsMfbzmwI4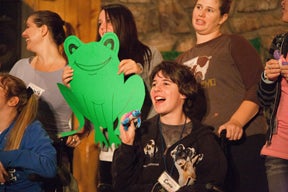 "Going to camp opened my eyes and changed the person I was inside and out. I saw how everyone was being treated and I realized that all I wanted all these years was... to be treated like everyone else. This is the best experience I ever had." - Lora Glassman
More Information
For more information please email the Camp Program Director or call 951.264.4855.