Trevor's Story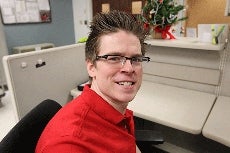 Like many young adults, Trevor is just starting his career, and it's going great so far. He has a full-time job, with benefits, and he earns well over minimum wage as a fulfillment clerk.
Right now, our staff provides on-the-job support services to help ensure his continued success at work, but his path with Easterseals Midwest didn't just begin with this job.
In fact, Trevor strengthened his communication and other important life skills through our autism therapies and other services when he was a kid. Back then, his family wasn't sure what his future would bring, but Trevor is very determined. To gain real-world job skills, both during school and after graduation, he participated in our summer internship program, as well as our Project SEARCH and Employment Access services.
"Project SEARCH helped me prepare for the future," Trevor says. "I learned how to be a good worker and to be professional." Of course, life isn't all about work for this young man -- Trevor also enjoys working out, reading about politics and history, and watching sports and movies.
Watch Trevor's story:
To learn more about our programs at Easterseals Midwest,
please contact us at 1-800-200-2119 or info@esmw.org.