Johnny's Story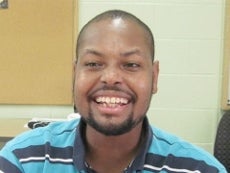 When Johnny first began services with Easterseals Midwest, he needed constant supervision. He had frequent outbursts and didn't respect personal boundaries. His parents had tried several programs to find a place where he could develop new skills in a safe environment, but none of the places they tried knew how to work with individuals with autism.

At 23 years old, Johnny entered Easterseals Midwest's Community Connections Program, a skill-building program that helps people with more significant disabilities, including autism. By providing both structure and routine, this program helps individuals like Johnny thrive.

After spending several years in the Community Connections Program, Johnny's outlook is much brighter. He has made friends and is able to communicate his wants and express his emotions in ways that can be easily understood. Johnny also is learning to understand social norms like respecting others' personal space and controlling negative behaviors.

One of the greatest outcomes that has come from Johnny's time at Community Connections Program is his growing interest in gaining vocational skills and transitioning into the Pre-Employment program offered by Easterseals Midwest.

"This program provides individualized training focused on employment-related skills that enable us to place people in community-based, competitive jobs," explains Rachael Peters, Community Services Manager at Easterseals Midwest. "Johnny's family recently started discussing future employment and is thrilled with the milestones he has achieved while attending Community Connections."

In addition to spending time developing daily living skills with the Community Connections staff, Johnny, now 25, volunteers two to three times a week at places like Lutheran Senior Services, the Society of St. Vincent de Paul, and the YMCA. He works hard and can complete his job tasks with minimal assistance, something his family doubted would ever be possible.

His mom says that he still needs supervision but that Easterseals Midwest has helped to reduce that amount of supervision greatly. She is so proud of what Johnny has accomplished in the time he has been receiving services through Community Connections.

Another one of Easterseals Midwest's programs that Johnny's mom appreciates is the in-home individual support, or respite programming, that allows her to have a break from time to time. Before Easterseals Midwest, there were no breaks. She says that Johnny would have crying outbursts, begin repeating words over and over, and she wasn't able to help him in the way he needed help. Now, she can get some relief when she needs it, regroup, and return a more patient mom because she accomplished something outside of the house—even if for just a brief period of time. She feels that her family's life is so much better because of Easterseals Midwest.
To learn more about services available at Easterseals Midwest,
please contact us at 1-800-200-2119 or info@esmw.org.