Lydia Padilla
Development Chair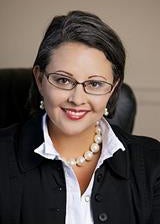 Employment: Owner - TRC Staffing Services, Inc.
Lydia owns and operates the St. Louis franchise of TRC Staffing Services, Inc. A 30-year veteran of the staffing industry, Lydia and her associates provide traditional staffing services, SEARCH, professional and technical contractors, management services, and placement of bilingual personnel for some of the country's leading companies, nonprofit organizations, and government agencies. Lydia served as the president of the Hispanic Chamber Foundation of St. Louis. She has also served as the board development chair of the St. Louis Community College, past chair of the St. Louis Agency on Training and Employement Workforce board, and has been active in Big Brothers Big Sisters of Eastern Missouri.
Lydia and her husband, Chris, live in Lafayette Square, where they continue to rehab their 135-year-old home. They love to travel, and Lydia is addicted to hot yoga.
To learn more about our programs at Easterseals Midwest,
please contact us at 1-800-200-2119 or info@esmw.org.