Who We Are
Easterseals has been helping individuals with disabilities and their families live better lives for more than 100 years. From child development centers to physical rehabilitation and job training, Easterseals offers a variety of services to help people with disabilities address life's challenges and achieve personal goals.
Together, we're leading the way to 100% equity, inclusion, and access for people with disabilities, families, and communities. Currently, we support nearly 6,000 children and adults with disabilities, empowering them to live the healthiest, happiest lives possible.
To learn more about the services of Easterseals Midwest,
please call 1-800-200-2119 or email info@esmw.org.
In the spotlight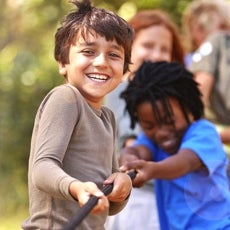 Easterseals programs across the country provide a wide variety of interventions that help individuals of all abilities, including those with Autism Spectrum Disorder (ASD). Easterseals currently has a combination of services specifically targeting individuals with the diagnosis of ASD as well as other services that include individuals with ASD among their service recipients.